Jenkins Keeps Rose-Hulman Rounding Bases for Success
Wednesday, March 18, 2020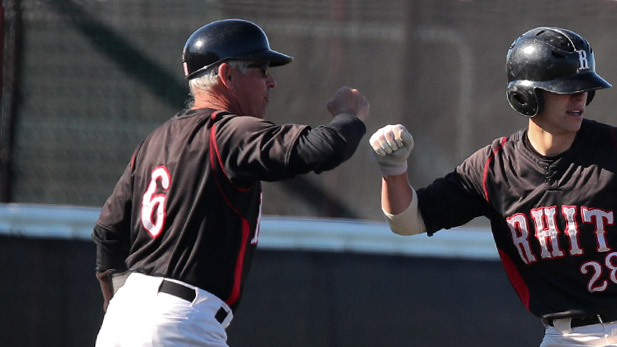 From a familiar spot within the third base coaching box on the baseball diamond, Jeff Jenkins has escorted runs for Rose-Hulman Institute of Technology that have accounted for a legendary small-college coaching career.

Earlier this spring, Jenkins became only the ninth active and 22nd all-time collegiate baseball coach to achieve 800 or more victories at NCAA's Division III level.

And, 755 of those victories came with the Engineers.

"We have had lots of good players who have played the game the right way. They overachieve, get better every day and believe in what we're trying to accomplish," says Jenkins, who has led the program for 31 seasons. "We have (players) who want to be successful – on the field, in the classroom, and in their future careers. It's been a pleasure to play a part in each part of that success."

The milestone career coaching victory came in Rose-Hulman's 3-1 triumph against Saint Joseph's College (Maine) in the second game of the aborted 2020 season. Two additional wins were added, giving Jenkins an 802-542-4 record.

That mark is significant when you consider that the college's baseball program had won 440 games over nearly 80 years before Jenkins became coach in 1990. Since then, the Engineers have appeared in seven NCAA Division III postseason tournaments, won six conference tournament titles and claimed five league regular-season championships.

After having a 16-17 record in his first spring, Rose-Hulman achieved nine straight winning seasons with 22 or more victories, including NCAA tournament appearances in 1992 and 1996 and a 30-13 record in 1999. The 2004 team won a school-record 36 games, and the 2014 and 2016 squads advanced to the championship round of the NCAA central regional.
Always modest and humble, Jenkins credits his success to his family, longtime assistant coach Sean Bendel, in his 22nd season, dedicated staff members and talented players, including four who have played in the minor leagues. Pitchers Eric Tryon and Andy Cain, infielder/pitcher Michael Matsui and shortstop Tim Tepe earned All-American honors under Jenkins, and 14 of his student-athletes have been recognized as Academic All-Americans. Kevin Kluemper was named Academic All-American of the Year in 1991 by the College Sports Information Directors of America.
"Year by year, we have been able to change players, but they all have been able to do the little things to keep the program successful," says Jenkins, who has been named league Coach of the Year during four championship regular seasons. "I hope we have had a role in helping the players become the great young men that they are. I share in the success each of them is having as Rose-Hulman alumni."
Jenkins began transforming the Rose-Hulman baseball program and its expectations shortly after becoming head coach. His tireless efforts for facility improvements featured adding lights to Art Nehf Field in 2001, with new dugouts and a club-seat, press box structure added in 2004. This led the college to host NCAA Division III Mideast regional tournaments in 2005, 2006, 2008 and 2013.
Well respected by his coaching peers, Jenkins chaired the NCAA Division III Mideast Regional Baseball Committee from 1996-2001. That committee makes the selection of participants for the NCAA tournament.
Besides coaching, Jenkins was one of several forces behind Rose-Hulman's move to coeducational athletics in 1995, construction of the Sports and Recreation Center, and the school's hosting roles of NCAA Division III national championships for women's basketball, golf, and indoor track and field. He has served as Rose-Hulman's athletic director for the past 18 years.
Jenkins started his coaching career at Heidelberg College (Ohio) for two seasons, earning conference Coach of the Year honors his last year, and continued for one season at Bethany College (W.V.) before coming to Rose-Hulman.