Free Online Coding Camp Introducing Kids to Computing Fun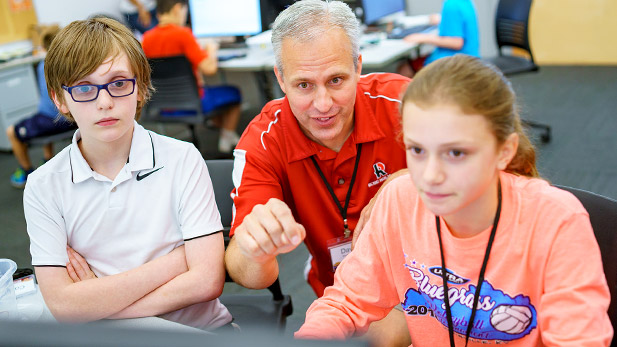 Rose-Hulman is hosting free online Connecting with Code computer programming camps through May 29 for youths wanting to have fun learning about computing, robotics and creating their own computer games. This week's sessions are for children in kindergarten through third grade, while next week will be for children in grades 4-8.
As an introduction to software coding, children are using Scratch programming this week to create their own games.
"Each day we're showcasing a new game that we build together in a video and we'll give kids an assignment for additional features they can add. It's a great way to start coding," says camp organizer David Fisher, professor of computer science, software engineering and mechanical engineering.
Next week, students will use the Tinkercad website to learn software development and simple engineering skills. Over the course of five days, instruction and projects will cover such basic concepts as 3D modeling, Arduino coding, electrical circuits, and coding blocks.
Join in the fun at https://connectingwithcode.org/home.
Fisher adds that kids can register to participate in the coding camp at any time during each session. More than 4,000 children are currently participating in camp activities.
"We're delighted to have so many children learning about computing and having fun. We had 400 people join on Tuesday (May 19). That's the nice thing about videos, you can start late and it's fine. People can join this week as late as Friday and I will set them up to do all the content," the professor states.
Rose-Hulman's camp is part of the national Connecting with Code program that strives to get young people excited about code and connecting them with online programming resources.
"There is a whole big world of programming resources already online that kids and parents probably don't know about or have otherwise been slow to start using," says Fisher, who has organized summer coding camps at Rose-Hulman for several years. This is the first year that instruction has been online. "Our mission is to not reinvent the wheel with online computer science education, but to instead be curators to help evaluate great resources and get children started on a path that leads to new opportunities," he said.