Fast and Curious: "Almost, Maine" Coming to Hatfield Hall
Tuesday, January 28, 2020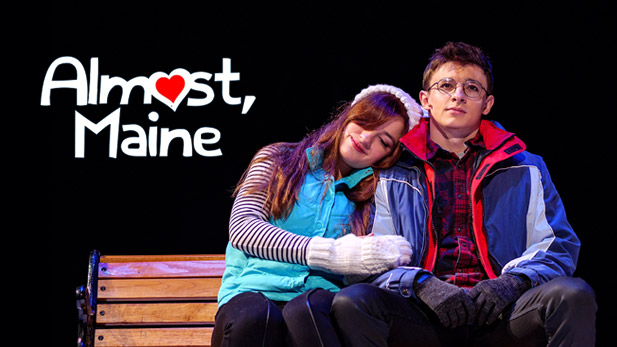 A surreal series of fast-moving tales with enough comedy, heartache and interpersonal drama for everyone, "Almost, Maine," is coming to Hatfield Hall January 30-February 2.
In the fictional but recognizable town of Almost, Maine, a woman carries her heart, broken into nineteen pieces, in a small paper bag, a man shrinks to half his size after losing all hope for love, and a man and woman share a kiss in a laundromat after the man reveals he literally cannot feel pain.
And these are just a few of the nine compelling stories dramatized in "Almost, Maine," a play by modern playwright John Cariani and performed by the Rose Drama Club.
The play, first performed in 2004, presents a series of two-and-three person dramas involving lost love, frustrated dreams, and missed opportunities. In one scene, for example, a woman appears at a man's home to accept a marriage proposal she received years before. But, by then, the man who asked to marry her looks completely different from years of lost hope. She also discovers he's married.
"'Almost, Maine' is about love, in all its different forms," says director Trevor Hanson. "We see relationships change, begin, and end, often in unexpected ways. 'Almost, Maine' is a heartwarming show that shows realistic situations brought together with the magic of the Northern Lights."
Tickets for Almost, Maine are $15 for adults and $10 for those under 18. You can buy tickets online at
www.hatfieldhall.com
or by calling 812-877-8544. The ticket desk in Hatfield Hall is open Monday through Friday from 9 a.m. to 2 p.m. and also one hour before the show if seats remain available.
Show Information
"Almost, Maine"
Thursday, January 30-Saturday, February 1 at 7:30 p.m.
Sunday, February 2 at 1:30 p.m.
Hatfield Hall
Tickets $15 for adults; $10 under 18; $10 faculty/staff
Tickets available at
www.hatfieldhall.com