$1 Million Lilly Endowment Grant to Support First-Year Student Success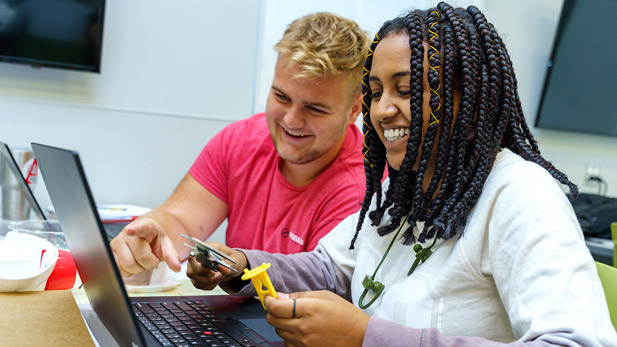 A $1 million grant from Lilly Endowment Inc. will enable Rose-Hulman to further help first-year science, technology, engineering and mathematics (STEM) students successfully transition from high school to college.

The grant to Rose-Hulman was approved through Lilly Endowment's Charting the Future of Indiana's Colleges and Universities initiative. The grant will help Rose-Hulman develop the tools necessary to ensure its first-year students of all backgrounds have the fundamental skills necessary to succeed in a challenging STEM environment.

Rick Stamper, Rose-Hulman's provost and vice president for academic affairs, states the institute is excited that Lilly Endowment is supporting Rose-Hulman's commitment to creating an environment that promotes the success of first-year students as they adapt to the rigors of classes at Rose-Hulman. He adds that the institute's support for first-year students will be especially important this fall since the COVID-19 pandemic caused many 2020 high school graduates to experience significant disruptions to their senior-year educations.

The grant will fund several actions to support Rose-Hulman first-year students. These include the deployment of online summer mathematics assessment and improvement tools, the creation of a young alumni mentoring program, increased use of peer tutors, and the refinement of key first-year classes to take advantage of best practices that have been identified to improve first-year student success.

"Rose-Hulman occupies a special place in Indiana's higher education landscape," says institute president Robert A. Coons. "This grant will ensure our incoming students have the tools they need to complete a demanding four-year degree, achieve rewarding employment after graduation, and live engaged and meaningful lives, especially here in Indiana."

Lilly Endowment's Charting the Future of Indiana's Colleges and Universities initiative invited Indiana's 38 colleges and universities to apply for grants totaling up to $108.2 million. The grants will help the institutions develop and execute strategies to further their educational missions by addressing their key challenges and taking advantage of promising opportunities to enhance their effectiveness and long-term sustainability.

Late in 2019, Lilly Endowment provided Rose-Hulman a $100,000 Charting the Future planning grant to identify the institute's most pressing challenges and devise a strategic initiative to address those challenges.

The endowment expects to make additional grants through the Charting the Future initiative later this year. Grant amounts vary and are based on the student enrollment of each college or university.