Shadowland: The New Adventure Bringing Mind-Blowing Dance to Hatfield Hall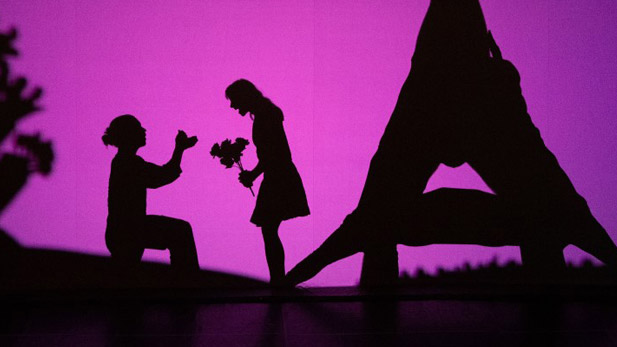 A revolutionary dance company that delights in stretching the physical limits of the human body and the popular notion of dance is coming to Rose-Hulman's Hatfield Hall Saturday, October 26 at 7:30 p.m.
"Shadowland: The New Adventure" is the latest creation of Pilobolus, an internationally acclaimed dance company described as part dance, part acrobatics, part Cirque du Soleil. The performance uses mixed media to tell a love story about two people and their quest to save a magical bird. Employing animation, video and live shadow theater, this madcap adventure samples the genres of science fiction, film noir and romantic comedy.
"This story encourages the underdogs of the world to speak truth to power with a hopeful message that love and camaraderie triumphs in the face of modern isolation and monotony," says Renee Jaworski, a co-artistic director for Pilobolus.
Featured on "The Late Show with Stephen Colbert," NBC's "TODAY" show, and MTV, Pilobolus was founded by three dance composition students at Dartmouth College in 1971. The group now includes more than a dozen talented dancers who have performed in dozens of countries, on Broadway, at the Oscars and at the Olympic games.
Tickets are $35 for adults and $10 for those under 18. You can get your tickets online at www.hatfieldhall.com, by calling 812-877-8544. The ticket desk in Hatfield Hall is open Monday through Friday 9 a.m. to 2 p.m. and also one-hour before the show if seats remain available.
This production is supported by the Arts Midwest Touring Fund, a program of Arts Midwest that is funded by the National Endowment for the Arts. Additional support comes from The Indiana Arts Commission and the Crane Group.
Show Information
Pilobolus Shadowland: The New Adventure
Saturday, October 26, 2019 at 7:30 p.m.
Hatfield Hall
Rose-Hulman Institute of Technology
Tickets $35; $10 under 18: $29 for faculty/staff
Tickets available at www.hatfieldhall.com