Award-winning 'ONCE: The Musical' Coming to Hatfield Hall
Friday, November 01, 2019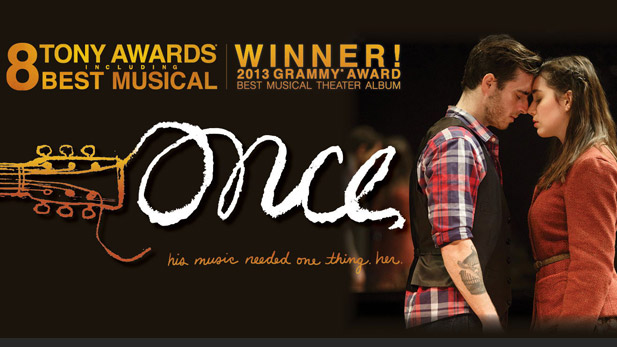 Broadway's best are coming to Hatfield Hall with "ONCE: The Musical," an award-winning romantic tale about love, friendship, music and following your dreams.
Guy is an Irish singer and songwriter who spends his days working in his father's Dublin vacuum repair shop and his nights playing music in local pubs. He's about to give up his music completely when a beautiful Czech immigrant, "Girl," walks into the bar and convinces him not to abandon his guitar. As it happens, she also needs a vacuum repaired.
Over the course of a week, Girl convinces Guy to believe in the power of his music and his love for the woman who inspires him. They scrape together enough money to cut a demo record and their unexpected friendship evolves into a powerful – but very complicated – love story.
Music from ONCE has earned an Academy Award, a Grammy Award, an Olivier Award, and a Tony Award. The Hollywood Reporter called ONCE "one of the best things to happen to Broadway in the past decade" and Variety said the production is a "rhapsodic, unique musical that's tender, funny and soaring."
Tickets are $49 for adults and $44 for those under 18. You can get your tickets online at www.hatfieldhall.com, by calling 812-877-8544. The ticket desk in Hatfield Hall is open Monday through Friday from 9 a.m. to 2 p.m. and also one hour before the show if seats remain available.
Show Information
ONCE: The Musical (Touring Broadway)
Thursday, November 7, 2019, at 7:30 p.m.
Hatfield Hall
Tickets $49; $44 under 18
Tickets available at www.hatfieldhall.com