Zollner Named Executive Director of Alumni Relations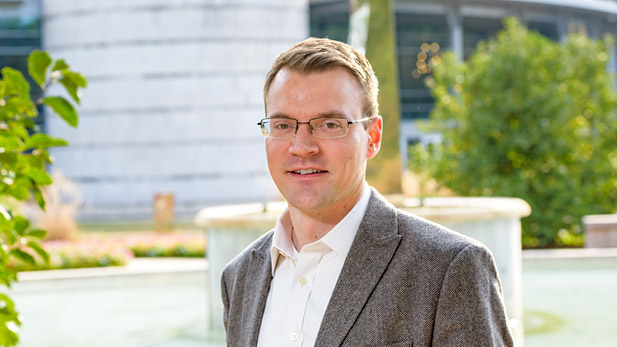 A familiar face is now greeting alumni, family members and friends to institute events and activities, with Brandon Zollner's appointment as the new executive director of alumni relations.
Zollner has spent the past six years as a key member of Rose-Hulman's advancement team, serving as director of corporate and foundation relations and assistant director of the comprehensive Mission Driven Campaign for Rose-Hulman that is raising $250 million through 2020.
At Rose-Hulman, Zollner has been working with alumni affiliated with some 30 corporate partners to develop relationships that have generated millions in annual contributions from corporate and foundation sources. He has assisted with gift prospect identification and solicitation, managed volunteer and campus campaign committees, and coordinated public relations efforts for all aspects of the fundraising cultivation process.
"After a national search resulted in several high-quality candidates, we found that the ideal person was already on our campus, and well familiar with our goals and aspirations," says Steve Brady, vice president for institutional advancement. "Brandon has developed strong relationships with our alumni and has the skills and institutional knowledge to extend the capacity of the Office of Alumni Relations to meet their evolving needs and expectations."
As executive director of alumni relations, Zollner will oversee an office within Institutional Advancement that works with the Alumni Association and collaborates with other alumni and campus groups to build alumni volunteerism and engagement.
Zollner came to Rose-Hulman in 2013 after serving nine years in a variety of roles, including director of corporate and foundation relations, within the advancement team at Saint Louis University, his alma mater. He founded that university's President's Circle Corporate Partners program, which increased annual gifts from corporations and managed a portfolio of nearly 100 corporate and foundation partners.
At Saint Louis University, Zollner earned a master of business administration and a bachelor's degree in meteorology. He also has a professional certificate in nonprofit board management from Boardsource, formerly the National Center for Nonprofit Boards.
During his years at Rose-Hulman, Zollner has been involved in campus and community activities, including Wabash Valley Art Spaces and the United Way of the Wabash Valley's Real Men Read Program.
Professionally, he is a member of the Council for the Advancement and Support of Education, helping organize this year's national conference, and the Network of Academic Corporate Relations Officers, leading an affinity group of professionals that represent engineering colleges.