Thomas Bear Named New VP for Enrollment Management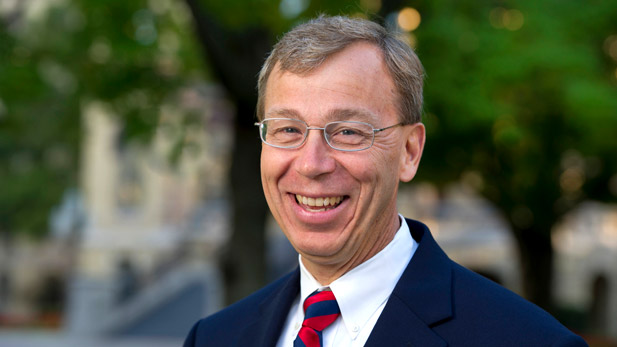 Faced with the retirement of its longtime vice president for enrollment management this year, Rose-Hulman conducted a national search and found the ideal candidate just a few hundred miles away, in Indiana. Thomas Bear, senior director for enrollment management at the University of Notre Dame, will be joining the leadership team at Rose-Hulman July 15.
Bear brings a wealth of experience in student recruitment, financial aid and enrollment management in both private and public higher education to the vice presidency at Rose-Hulman.
At Notre Dame, Bear has been overseeing enrollment strategy and operations, which includes management of the offices of financial aid, student accounts, shared services, and early outreach and engagement. Prior to his move to Notre Dame in 2012, he was vice president of enrollment services at the University of Evansville for seven years, and assistant vice president and dean of admission at Evansville for four years. He also spent 11 years in a variety of roles in the Ivy Tech Community College system — first as registrar at the Columbus campus, then as manager of student support services in Indianapolis, and finally as dean of student affairs in Evansville. Bear started his career at Adrian College in Michigan and the Walden School in Louisville, Kentucky.
"Dr. Bear's extensive experience, strong analytical skills, passion for his work, and collaborative, open leadership style were readily apparent during his campus visit and earned him high marks from faculty and staff," said Rose-Hulman President Robert A. Coons. "These accolades confirmed for me that we have found the right person to lead our enrollment management operation forward."
Bear will succeed James Goecker, who is retiring from Rose-Hulman after more than 32 years in student recruitment and enrollment management. Goecker has been vice president since 2008.
Regarding his appointment, Bear said, "Rose-Hulman Institute of Technology is one of our nation's premiere institutions, with a rich academic reputation. I look forward to working collaboratively with faculty and staff to shape an even stronger future."
Bear earned a doctorate in education from Indiana University after receiving a master's degree in public administration and bachelor's degree in sociology from Indiana State University. He and his wife, Susan, have three children.