'The Rose Show' to Feature Student Projects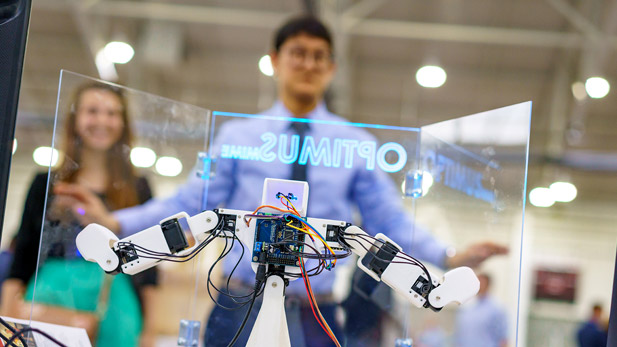 More than 110 projects designed to assist families, communities and companies will be featured in The Rose Show on Wednesday, May 1, on campus.
The projects illustrate the ingenuity, creativity and problem-solving skills of students, from first year through senior, who will be tomorrow's leaders in science, engineering and mathematics.
Representing 15 academic areas and completed this school year, mostly for external clients, the projects will be displayed in Rose-Hulman's Sports and Recreation Center from noon to 2 p.m. Admission is free, and the public is encouraged to attend and learn what's developing in technology. Representatives from industry will judge student projects and in some cases even pitch possible future project ideas.
[Watch a video with highlights from last year's event]
Since its beginning in 1927, The Rose Show has highlighted future technology. That heritage continues this year with projects featuring artificial intelligence, 3D technology, Internet of Things, cloud computing, robotics and software programming. In addition, students will present their thesis research conducted in mathematics and the sciences.
Some of the projects include:
An early breast cancer detection device that helps reduce the time and stresses involved in the screening process.

A device that automatically extends a shade to prevent the sun from shining in the face of an infant in a car seat.

Improvements to a remote-controlled miniature truck for a 5-year-old boy with Pelizaeus-Merzbacher disease, a rare and progressive condition affecting the central nervous system.

An auditory display headset which uses 3D sensors to help visually impaired people identify objects through audio clues.

A Bedtime Buddy device that gives children with Attention Deficient Disorder and Autism a series of friendly tasks to complete in preparation for bedtime each night.

A lightweight, inexpensive foldable chair, the size of a suitcase, which can be easily stored in an overhead compartment during airline flights.

A prescription medication notification device that alerts the elderly and other patients to take their pills on a routine schedule.

Automated locks that prevent a wheelchair from rolling away when a person is trying to get out of the chair, preventing personal injuries.

Design of a controlled environmental agriculture lab for Ivy Tech College's Wabash Valley campus in Terre Haute.
Other projects this year have been completed for such clients as Google, IBM, Naval Surface Warfare Center-Crane, Ind., Massachusetts Institute of Technology's Lincoln Laboratory, Motorola Solutions, North American Stainless, Sazerac, Quarq Technology Inc., Terre Haute's Reach Services, Wright Medical and Zimmer Biomet.
Gentex, a Michigan-based supplier of electro-optical products for the global automotive industry, is the main sponsor of this year's The Rose Show.