Rose-Hulman Recognized as 'Green College'
Wednesday, October 23, 2019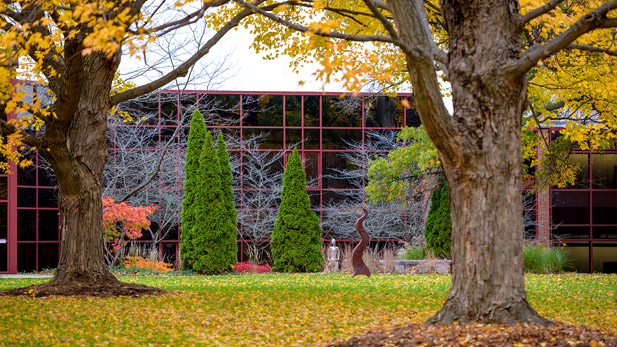 Rose-Hulman Institute of Technology has been recognized for its continued sustainability efforts, being among a select group of North American environmentally responsible colleges and universities featured in The Princeton Review's 2019 Guide to Green Colleges.
This is the first year that Rose-Hulman has been recognized on the annual list, compiled since 2010 for environmentally aware college applicants. The Green College designation is listed in Rose-Hulman's profile on www.princetonreview.com and the 2020 edition of The Princeton Review's "The Best 385 Colleges" guide.
Editors for the education service company developed a college's Green Rating score after analyzing more than 25 data points covering academic offerings and initiatives, campus policies and practices, and green career preparation for students. A total of 413 colleges earned the Green College designation for achieving scores between 80 and 99.
Rose-Hulman received high marks for having sustainability-focused academic degree offerings, having a campus sustainability committee and greenhouse gas inventory management plan, and having 10 percent or more of its food service budget spent on locally grown or organic food options.
In particular, Rose-Hulman student groups have studied reducing food waste and use of plastic straws in dining halls; a sustainability makerspace area has been established; and the Bon Appetit food service's farm-to-table, made-from-scratch cooking has a local food sourcing guarantee. The campus also has been named a Tree Campus the past two years by the Arbor Day Foundation.
Princeton Review Editor Rob Franek notes that colleges earning the Green College designation "are standouts for their exemplary commitments to sustainability . . . with initiatives ranging from solar-powered residence halls and tray-less dining halls to robust offerings in environmental studies, they are, each in their own ways, outstanding institutions for students seeking to study and live at a green college."