Mechanical Engineering Students Recognized for Academics, Technical Merits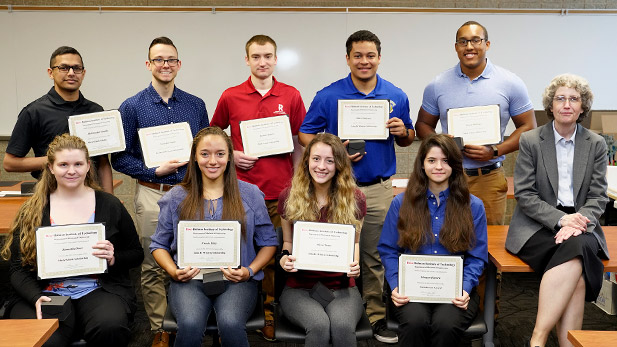 A dozen students have been recognized this spring by the Department of Mechanical Engineering with honors and scholarships for their academic success, technical merits, and involvement in research and extracurricular activities.

Morgan Hansen received the Robert Steinhauser Award as the most outstanding junior mechanical engineering major, as selected by the department faculty. The native of La Grange, Ky., excels academically and has conducted independent research on campus. She has modeled a continuum robot manipulator and built a prototype manipulator. Steinhauser is an emeritus professor and former longtime department head.

Awarded John D. Winters Scholarships to support their futures as mechanical engineers were Jalen Gutierrez, a junior from Anderson, Ind.; Dean Netzler, a senior from Rockville, Ind.; Alexa Nutter, a junior from Madison, Ind.; and Cassie Utley, a sophomore from Danville, Ind. Winters was a 1949 Rose Polytechnic Institute graduate who had a 40-year career with Caterpillar Inc., retiring as vice president and general manager of the company's engine division.
Meanwhile, Mark Schulz Scholarships were presented to Shubhankar Gandhi, a senior from Mumbai; Erin Minervini, a senior from Red Bank, N.J.; Thomas Roberts, a senior from Phillips, Wis.; Samantha Starr, a senior from Brazil, Ind.; and Devin Williams, a junior from Cincinnati, Ohio. Schulz is a 1976 alumnus who has had a successful career as a field engineer with Babcock & Wilcox Company.
Receiving Darrell Gibson Scholarships were Derek Deimel, a senior from Olney, Ill., and Nicholas Samra, a senior from Ada, Mich. Gibson was a mechanical engineering professor for 43 years before retiring in 2015.