Historic Clabber Girl Baking Powder Billboard Restored to Past Glory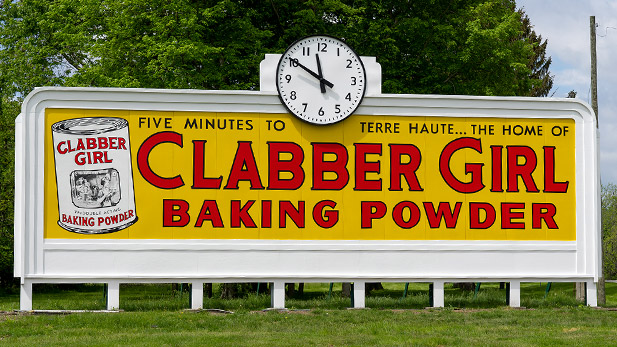 Editor's note: On May 15, 2019, Hulman and Company announced it had sold Clabber Girl to B&G Foods.
Like the double-acting baking powder that it promotes, the large billboard promoting Terre Haute as the home of Clabber Girl Baking Powder has risen again to welcome visitors to the city.
Rose-Hulman and Clabber Girl Corporation worked since late last fall to restore the beloved Indiana landmark, and its clock, with the assistance of Wabash Valley professional artist Becky Hochhalter.
"The billboard, with its large clock on top, has been an important part of the community. People really missed it during the restoration process," says Rose-Hulman President Robert A. Coons. "As members of the community for a very long time, we just wanted to see that the billboard was restored to its original glory."
Landscaping around the base of the billboard is expected to be added soon, depending on weather conditions.
The 44-foot-long billboard along U.S. 40 — the Old National Road — on the eastern edge of Terre Haute has welcomed visitors to the city for more than 80 years. It is believed to be the oldest billboard in existence in Indiana and, with its large clock, one of the first electric billboards in the country.
The restored clock will now be able to be set by remote control, allowing for more ease in resetting the time during the change of daylight saving time each fall and spring.
Rose-Hulman took over ownership of the sign in the fall of 2017 as part of the institute's purchase of more than 1,100 acres of property from the Hulman family, founders of Clabber Girl, including the southwest corner of U.S. 40 and Hunt Road on which the billboard sits.
"We appreciate our association with the Hulman family and the Clabber Girl Corporation. It seemed like a natural fit for us to continue the legacy of the Clabber Girl Baking Powder billboard," said Coons.
Hochhalter repainted the sign with the same colors and images — the Clabber Girl Baking Powder logo, container and the words "Five Minutes to Terre Haute . . . The Home of Clabber Girl Baking Powder."
Clabber Girl Baking Powder is the top-selling baking powder brand in the United States, according to the Clabber Girl Corp., which has its headquarters in downtown Terre Haute. The private holding company has produced the baking powder since 1899. In the 1930s, Anton "Tony" Hulman Jr. developed a national sales campaign, including roadside billboards, in hopes of making the baking powder brand a household name.