Goldsmith's Words of Leadership Wisdom are Best Selling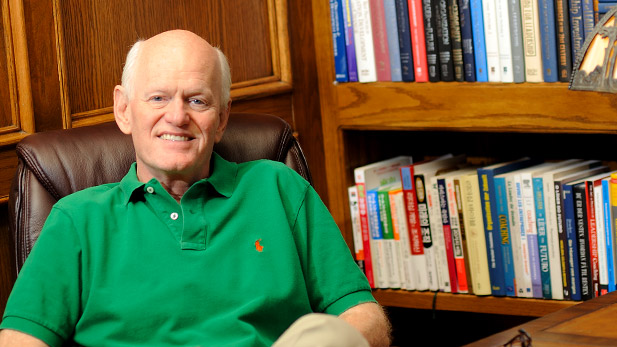 When the world's leading executives need assistance on navigating the turbulent seas of today's business climate, they seek the wisdom from alumnus Marshall Goldsmith, a key executive coach and best-selling business author.

In fact, the 1970 economics and mathematics graduate has been named the Top Author of the Year (2019) by the International Association of Top Professionals (IAOTP), a global network of top professionals in a variety of industries. He will be recognized at the organization's annual awards gala December 7 in Las Vegas.

This recognition comes after Goldsmith has been ranked the world's top executive coach and leadership thinker by the Thinkers 50 organization. His list of clients include the chief executive officers with Ford Motor Company, GlaxoSmithKline, and Mayo Clinic, the president of the World Bank, and Intel's vice president/general manager.

Goldsmith has authored or collaborated on such Wall Street Journal and New York Times bestsellers as "What Got You Here Won't Get You There," "MOJO," "Triggers" and his latest, "How Women Rise." He also is a sought after lecturer and speaker, professor of management practice for Dartmouth College's Tuck School of Business, and director for The Frances Hesselbein Leadership Institute-Peter Drucker Foundation.

IAOTP President Stephanie Cirami stated in a news release that "choosing [Marshall] Goldsmith for [Top Author of the Year] honor was an easy decision for our panel to make . . . He has tremendous foresight, extensive knowledge, is brilliant at what he does and was exactly what we were looking for."

Through his consultations, writings and lectures, Goldsmith has helped successful people achieve positive, lasting change and behavior – for themselves, their people and their management teams. He attributes his success to the value of education and mentors met throughout his career.

"I do this because I love helping people," he says.