First-Year Students Arrive to Begin Academic Journeys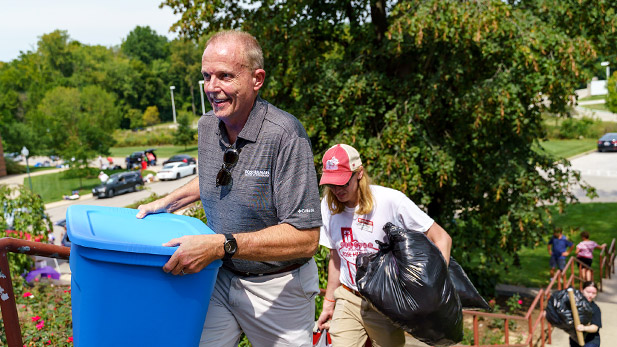 More than 500 first-year students from throughout the world were welcomed to campus with open arms and helping hands on Friday, Aug. 30, to begin orientation for their collegiate academic journeys.

The 2019-20 first-year class – the Class of 2023 – is slightly more than last year's incoming class and is similar in academic quality as past years. Rose-Hulman also continues to draw strong national and international student enrollment due to its growing reputation in undergraduate science, engineering and mathematics education; strong return on investment, with excellent job placement; and a recognized academic environment infused with innovation, intellectual rigor and individualized attention, according to Tom Bear, vice president for enrollment management.

Highlights of the incoming class are:
502 students have arrived from 37 states and 11 countries.
58% of students came from outside Indiana, compared to an average of 44% for other in-state independent colleges. Leading out-of-state origins are Illinois (63 students), Ohio (46 students) and California (36 students).
Approximately 1 in 4 students (24%) are female, ranking among the highest percentages since the institute went coeducation in 1995.
The student body continues to get more diverse, with 34% of students being non-Caucasian, non-citizens of the U.S.
International students make up 8 percent of the group, which is higher than the average of 5% for other Indiana independent colleges.
Median SAT scores of 710 for math and 650 for critical reading place among the top 5% of test takers interested in science, technology, engineering and math (STEM) areas.
70 of the students had participated in the Operation Catapult pre-college summer STEM exploration program (conducted in 2018).
Rose-Hulman also has welcomed 13 transfer students, entering from 12 different institutions.