Engineers in Concert to Highlight Musical, Dance Talents of Rose Students
Tuesday, February 12, 2019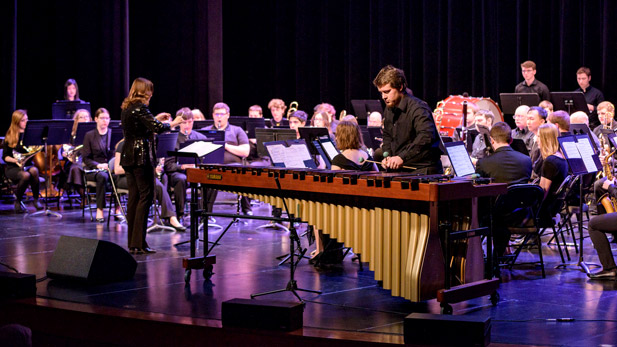 If you're looking for a musical escape from the winter blues, Rose-Hulman's upcoming Engineers in Concert offers the perfect getaway.
Set for Friday, February 15 at 7:30 p.m. in Hatfield Hall, the program will feature the Rose-Hulman Symphony Orchestra, Jazz Ensemble and Dance Company. It will also include a student percussion ensemble, chamber vocal ensemble and several solo vocal and instrumental performances.
Admission is free and open to the public for the approximately 90-minute concert.
"Once again, our students will show that their talents and interests reach far beyond science and technology. This is especially impressive considering what busy schedules they keep this time of year," says Brad Burchett, a professor of mechanical engineering and organizer of the event. "Their willingness to prepare and perform serious, challenging pieces never ceases to amaze me."
The Rose-Hulman Symphony Orchestra will play a Duke Ellington medley and highlights from "West Side Story." The jazz ensemble will perform "South 21st Shuffle," "Count Me In," and "Cold Duck Time." Both are directed by Norm Hanson.
Among the evening's solo performers will be junior Santiago Lopez, performing the trombone classic "Blue Bells of Scotland" accompanied by David Gibbs on piano.
Vocal soloists will include senior Mackenzie Willis accompanied by senior Alex Hodges on guitar performing "Even If" and "Somebody's Daughter" and junior Amol Agarwal performing Ed Sheeran's "The A Team." The Rose-Hulman Dance Company will perform "Open Hands."
Senior Megan Dado will perform the solo modern dance, "What About Us." "One Summer's Day" by Joe Hisaishi will be performed by junior Rebecca Su on cello and senior Anita Hsu on piano. Sophomore Joshua Eckels will perform Franz Listz's Étude No. 3, "Un sospiro" on piano.