Electrical Engineering Alumni Duo Among Chicago's 'Tech 50'
Wednesday, August 07, 2019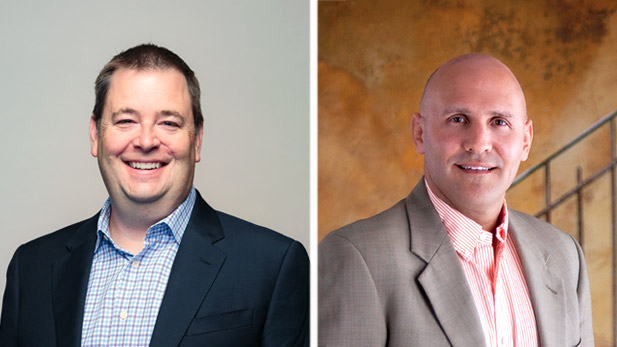 Electrical engineering alumni
Corbett Kull
and
David Olivencia
have been featured among the emerging stars, new faces and behind-the-scenes heroes of Chicago's growing tech sector as members of Crain's Chicago 2019 Tech 50 list.
The business publication annually highlights chief executive officers, entrepreneurs and technologists for their current contributions to new and existing enterprises.
Kull is founder and CEO of Tillable, a first-of-its-kind e-commerce ag-tech startup that's bringing together those who have farmland to rent with people who want to farm it. The company estimates that this is a $32 billion market nationally and represents 50 percent of all farmland in Illinois.
That's why investors have contributed to the $8.25 million in seed capital to help ramp up sales, marketing, engineering and product development for the company, which launched last summer and already has approximately 5,000 users. Farmers outnumber landowners at this time, according to Kull, a 1990 graduate.
This is his second ag-tech venture. The former Motorola engineer's 640 Labs enterprise brought big data to the business of farming. It was purchased nearly four years ago by Climate Corp., a technology unit of Monsanto.
Olivencia has been managing director of cloud computing for Accenture's Midwest health care and government customers since February 2017. His Journey to Cloud Program brings together cloud services, team members and ecosystem partners to make sure customers benefit from having the right strategies and industry perspective for today's ever-changing tech climate.
"Cloud [computing] is exciting and transformational, with untold benefits," says Olivencia, a 1994 alumnus. "I believe if your business is not in the cloud, it will be in the ground."
Prior to Accenture, Olivencia had technology and business strategy leadership positions with Nippon Telegraph and Telephone, Ford Motor Company, Oracle, Verizon and Softtek. He is an active angel investor who helped establish the Hispanic IT Executive Council, a national group of Latino leaders in tech. He is a member of the advisory board of the Congressional Hispanic Leadership Institute, with 10 members of the U.S. Congress and several Fortune 500 executives. The Munster, Indiana, resident also serves as a commissioner for the Indiana's Minority and Women's Business Enterprises Division.