Dino-Light Set to Glow with Two Shows at Hatfield Hall
Monday, September 23, 2019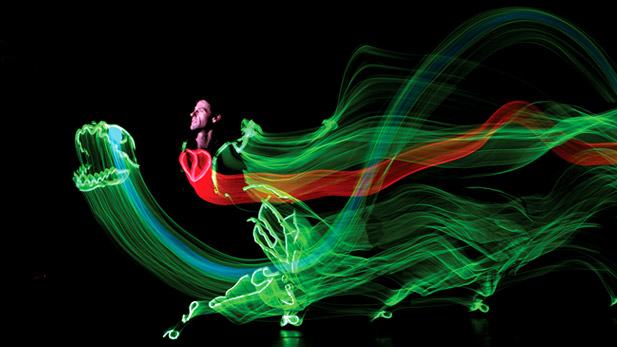 An amazing display of light, dance and puppetry is coming to Rose-Hulman Institute of Technology's Hatfield Hall on Saturday, September 28, when Lightwire Theater presents Dino-Light.
A spectacular show for the whole family, Dino-Light tells the story of a famous scientist with magic powers who brings a friendly dinosaur to life. When the dinosaur wanders away from home, he discovers a wonderful world full of creatures that light up and help him find the true meaning of love.
Called "absolutely incredible" by Rolling Stone, Lightwire Theater has been praised around the world for its cutting-edge blend of technology, puppetry and dance.
Based in New Orleans and founded by Broadway dancers Ian Carney and Corbin Popp, the troupe's talents have been featured on NBC's "America's Got Talent," and Tru TV's "Fake Off." Their electroluminescent performances have dazzled audiences around the world.
Tickets for Dino-Light are $27 for adults and $15 for those under 18. You can order tickets online at hatfieldhall.com or by calling 812-877-8544. Tickets are also available at the Hatfield Hall ticket desk, open 9 a.m. to 2 p.m. Monday – Friday and one hour prior to each show when tickets remain.
Dino-Light is just one of three family features planned for Hatfield Hall this season. The next two programs are "'Twas the Night Before Christmas" in December and "Erth's Prehistoric Dinosaur Aquarium Adventure" in February.
Financial support for Dino-Light is being provided by the Office of the Mayor and the City of Terre Haute.