Competition Teams: Vehicles for Learning, Adventure, Service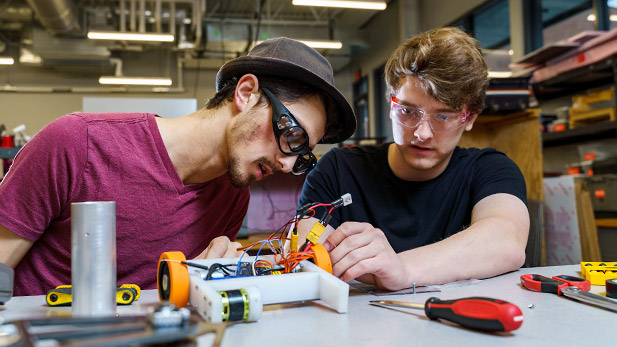 They race. They fight. They're long on innovation and stingy on fuel. The creations of Rose-Hulman's competition teams perform well and score points, but their greatest achievement is conveying lessons that may not be covered in the classroom.

From fighting robots to a custom-built vehicle running on pedal power, Rose-Hulman competition teams racked up another year of accomplishments and lessons learned. Students test design skills, speed and strategy against teams from other institutions. Regardless of how the teams score, the experience translates to preparation for challenges they'll face as working engineers.

Highlights of the 2018-19 competition season include:

Combat Robotics
More than a dozen students took three robots to Georgia Tech during National Robotics Week in April, where each team won at least one match. One scored second out of 18 teams competing.

RoboMaster
Challenges include preparing four copies of the same fighting robot and the logistics of traveling to China for the main RoboMaster competition in August. More than a dozen students made for a robust team with big ambitions.

Rose High-Efficiency Vehicle
The team overcame a hurdle at the Shell Eco-Marathon competition in April, again passing the rigorous technical inspection and getting their car on the track. A modular component board simplified testing and tweaking, compared with mounting individual components on the car itself. Problems with the transmission reflected insufficient time for testing—a frequent bugaboo for competition teams.

Human-Powered Vehicle
Given the smaller team (fewer than a half-dozen students, compared with as many as 30 in past years), the Rose HPV did well at Michigan State in April, scoring in the middle of the pack in all events. Next year, a few new members are expected to fill out the core of returning students.

FIRST Robotics
This competition calls on college students to mentor high-school teams on a different challenge each year. College students, many who participated while in high school, gain skills such as explaining complex engineering principles to judges who may not have a technical background. RHIT students mentored a team that competed in the state finals in April.