Carmel High School Adds Up Another Rose-Hulman Math Competition Title
Monday, November 25, 2019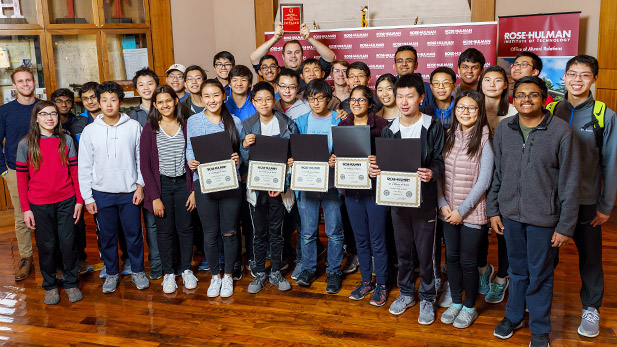 For the 11th consecutive year, Carmel High School earned first place in the Rose-Hulman High School Mathematics Competition, which had 428 students participating from 27 schools from throughout Indiana and Illinois.
Terre Haute's South Vigo earned second place overall team honors, followed by Evansville's Signature School, third; Newburgh's Castle, fourth; and Terre Haute North Vigo, fifth.
The Rose-Hulman competition is unique because it honors individual and team place finishers in each grade class, along with an overall school champion.
Six students correctly solved all 20 of the challenging problems in this year's competition, including five sophomores – all from Carmel.
Grade division champions were senior Kabir Sheth of Signature; juniors Rhea Acharya of Carmel and Song Kim of Lafayette Harrison; sophomores Aneesh Dasgupta, Jack Liu, Bill Quian, Jinhee Won and Jacob Zhang, all of Carmel; and freshman Jayce Dix of Terre Haute South Vigo.
The competition was organized for the 54th consecutive year by Rose-Hulman's Department of Mathematics. Professor John Rickert coordinated the testing and grading procedures, along with other department faculty, staff and student volunteers.
Top team and individual results, by grade division, were:
Overall Results: 1. Carmel, 2. Terre Haute South Vigo, 3. Signature School, 4. Castle, 5. Terre Haute North Vigo
Senior Team: 1. Carmel, 2. Castle, 3. Signature School, 4. Fishers, 4. Hamilton Southeastern
Senior Individual: 1. Kabir Sheth, Signature School; 2. Angela Li, Carmel, 2. Andrew Park, Centennial School; 3. Raj Chilukuri, Castle; 3. Jerry Wang, Carmel; 3. Christopher Zou, Carmel; 4. Sean Thierion de Monclin, Hamilton Southeastern; 5. Caroline Christ, Terre Haute North Vigo; 6. Aaron Frollo, Fishers; 7. Raphael Li, Carmel; 8. Makagyn Grimm, Terre Haute South Vigo; 8. Zach Roberts, Westfield; 9. James Lao, Zionsville; 10. Jenny Cai, Park Tudor; 10. Sage Johnson, Urbana; 11. Arjent Imeri, Terre Haute North Vigo; 12. Luke Oxley, Castle; 12. Collin Tully, Fishers.
Junior Team: 1. Carmel, 2. Terre Haute South Vigo, 3. Terre Haute Christian Home Educators, 4. Castle
Junior Individual: 1. Rhea Acharya, Carmel; 1. Song Kim, Lafayette Harrison; 2. Tim Lin, Culver Academies; 2. Noah Tan, Carmel; 3. Ben Tran, Fishers; 4. Micah Beachy, Terre Haute Christian Home Educators; 4. Stephen Kallubhavi, Terre Haute South Vigo; 5. Tommy Yu, Culver Academies; 6. Daniel Armeanu, Signature School; 6. Lillian He, Carmel; 6. Lalith Roopesh, Carmel; 7. William Wei, Culver Academies; 8. Arnav Mehra, Hamilton Southeastern; 9. Skylar Smith, Fishers; 9. Halle Bailey, Castle; 10. Rayyan Khan, Signature; 10. Kyle Li, Terre Haute South; 11. Owen Eckart, Carmel; 11. Atul Odhayamangalam, Terre Haute South Vigo; 12. Spencer Durham, North Central (Indianapolis)
Sophomore Team: 1. Carmel, 2. Signature School, 3. Terre Haute South Vigo, 4. Culver Academies
Sophomore Individual: 1. Aneesh Dasgupta, Carmel; 1. Jack Liu, Carmel; 1. Bill Quian, Carmel; 1. Jinhee Won, Carmel; 1. Jacob Zhang, Carmel; 2. Aniket Biswal, Carmel; 3. Pravir Chugh, Park Tudor; 3. Jammy Wang, Carmel; 4. Aadil Parvaz, Terre Haute South Vigo; 5. Nathan Huang, Carmel; 6. Calvin Josenhans, Signature School; 6. Akash Bhowmik, Carmel; 7. Nathan Ou, Carmel; 8. Charissa Chow, Terre Haute South Vigo; 9. Danny Dwyer, Signature School; 10. Cindy Chen, Culver Academies; 10. Joey Shao, Zionsville; 11. Jerry Chen, Covenant Christian; 12. Will Ruiz, Hamilton Southeastern
Freshman Team: 1. Carmel, 2. Terre Haute South Vigo, 3. Terre Haute North Vigo, 4. Castle
Freshman Individual: 1. Jayce Dix, Terre Haute South Vigo; 2. Grace Yang, Park Tudor; 3. Canaan He, Carmel; 4. Tanay Acharya, Carmel; 5. Jerry Feng, Culver Academies; 6. Nathan Martin, Carmel; 7. Brian Zhang, Lafayette Harrison; 8. Alvin Xu, Zionsville; 9. Christian Tolksdorf, Culver Academies; 10. Hailey Kirkland, Castle; 10. Samhita Shantharam, Terre Haute South Vigo; 11. Emma Foster, Terre Haute North Vigo; 11. Abagail Tokish, Terre Haute South Vigo; 12. Andrew Cannon, Terre Haute South Vigo; 12. Hunter Miller, Culver Academies
Participating schools were Castle, Centennial, Champaign Central (Ill.), Covenant Christian, Culver Academies, Cumberland (Ill.), Fishers, Hamilton Southeastern, Lafayette Harrison, Lutheran, Marion, Mooresville, Park Tudor, Perry Meridian, Saint Joseph School, Signature School, Terre Haute Christian Educators, Terre Haute North Vigo, Terre Haute South Vigo, Urbana (Ill.), Voigtschild Home School, West Vigo and Westfield