Rose-Hulman's 2018 Graduates Finding Rapid ROI in Landing Jobs, High Salaries
Friday, December 21, 2018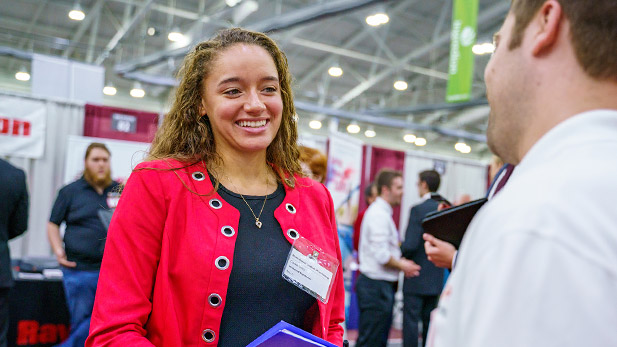 An economy ripe with opportunities throughout the technology sector is providing plenty of options for Rose-Hulman graduates to start careers in science, engineering and mathematics fields.
In fact, 98 percent of the institute's 487 graduates in the Class of 2018 had found or started full-time employment, were enrolled in graduate school or were commissioned military officers within six months after receiving their diplomas.
That continues the 96 percent-or-better career placement of graduating classes from the past seven years, according to the Class of 2018 Report released by the Office of Career Services and Employer Relations.
Rose-Hulman's career placement statistics account for all members of each year's graduating class, not just those who have used the office's services and participated in career- or graduate-school events on campus.
Graduates in the following academic majors had 100 percent placement rates for 2018: Biochemistry, biology, chemistry, civil engineering, computer engineering, electrical engineering, engineering physics, international computer science, mathematics and physics.
The average accepted starting salary for Rose-Hulman's Class of 2018 was $69,493—an increase of $2,052 over the average for 2017 graduates. The highest starting salary was $120,000 for a computer science graduate, while majors in chemical engineering, computer engineering, optical engineering and software engineering also started jobs with salaries in excess of $100,000.
Other noteworthy items from the Class of 2018 Placement Report are:
Companies hiring the most graduates were Rockwell Collins, Naval Surface Warfare Center, Boston Scientific, Cook Group, Edgile, Eli Lilly and Company, Texas Instruments, Caterpillar, Cummins, Google, Allegient, ArcelorMittal, Endress+Hauser, Honeywell, JR Automation, Marathon Petroleum, Milwaukee Tool, North American Lighting, Raytheon and Rolls Royce.
Fifteen percent of the Class of 2018 are now attending 35 graduate schools throughout the world. The list of colleges include University of Bonn (Germany), Boston University, University of California, Carnegie Mellon University, Clemson University, Cornell University, Duke University, George Washington University, Georgia Institute of Technology, University of Illinois, Indiana University, Johns Hopkins University, University of Michigan, New York University, University of Notre Dame, Northwestern University, University of Oklahoma, Purdue University, Rice University, Rochester Institute of Technology, University of Sheffield (England), University of Southern California, Southern Methodist University, University of Texas, Texas A&M University, West Virginia University and Washington University (Mo.)
A total of 894 companies participated in career services events or had contact with students through the career services office during the 2017-18 school year; 1,342 on-campus interviews were conducted.