Matthew Lovell Earns National Young Faculty Achievement Award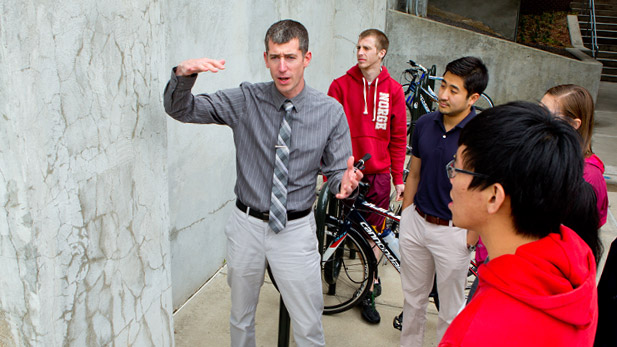 Excellence and innovation in teaching have earned associate professor of civil and environmental engineering Matthew D. Lovell the American Concrete Institute's Walter P. Moore Jr. Faculty Achievement Award.
The honor recognizes professors with demonstrated technical competence, high character and integrity who have less than seven years of faculty service in teaching concrete design, materials or construction.
A member of the Rose-Hulman faculty since 2011, Lovell has research interests in reinforced concrete structures and integral abutment bridges. He also has recently concentrated on entrepreneurial-minded learning, experiential learning and academic change.
Lovell has joined colleagues from Rose-Hulman and Saint Louis University to develop a modular learning laboratory that will allow civil engineering students to perform structural engineering experiments at or near full scale. The project is being supported by a National Science Foundation grant.
He also is spending the next two academic years as interim senior director of institutional research, planning and assessment at Rose-Hulman, along with teaching classes in structural engineering, structural dynamics, earthquake engineering and computer applications.
And as a director for the Making Academic Change Happen program, Lovell is focused on helping develop higher education leaders to implement academic change on their campuses.
Lovell is a member of ACI committees that are examining teaching methods, educational materials and concrete bridge design, and has made presentations on a variety of civil engineering topics at past ACI conventions. He volunteered to be the new member development coordinator for ACI's student and young professional activities committee.   
A member of the American Society of Civil Engineers, Lovell earned the organization's section Daniel V. Terrell Outstanding Paper Award in 2016. He received the 2017 Teacher of the Year Award from American Society of Engineering Education's Illinois-Indiana section, and the 2014 Gerald R. Seeley Award from the ASEE's civil engineering section.
Lovell earned a bachelor's degree in civil engineering from Rose-Hulman in 2006 before going on to achieve master's and doctorate degrees in civil engineering from Purdue University, with perfect 4.0 GPAs. He is a licensed professional engineer in Indiana.