Great Season of Drama and Comedy Coming To Rose Student Stage
Thursday, September 20, 2018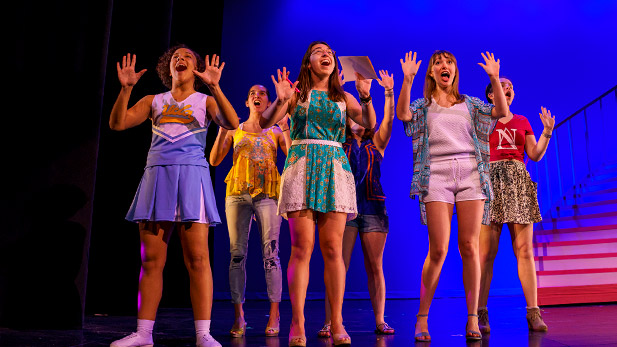 A classic play, a romantic comedy and a modern take on an ancient tragedy will grace the stage of Hatfield Hall this season in three very different performances by the Rose Drama Club.
The club kicks off the 2018-19 season November 1-4 with "Our Town," Thornton Wilder's beloved, Pulitzer Prize-winning drama. The story, set in a small New England town during the Great Depression, traces the experience of Emily Webb and George Gibbs, who grow up together, are transformed by love, and learn it's often the things we least appreciate in life that are the most important. A true classic, "Our Town" is one of the most performed plays in all of theater.
Next on the Drama Club's menu is "First Date" a musical comedy, appearing January 31-February 3. This light-hearted musical romance follows Casey and Aaron, who have been set up for a first date and seem, in their first awkward moments together, completely mismatched. They struggle with the voices in their heads, the advice of friends, and the ghosts of past experience as a genuine relationship begins to take root. "First Date" opened on Broadway in 2013.
The season caps off May 2-5 with "Aida," a modern adaptation, penned by Elton John (music) and Tim Rice (lyrics), of the Verdi opera of the same name. It's the ancient story of Aida, a Nubian princess taken captive by the Egyptians, who wins the heart of Radames, an Egyptian soldier who was supposed to marry the pharos' daughter, Amneris. This classic love triangle becomes all the more complicated when you add the competing emotions of patriotism and duty to family.
"Once again the Rose Drama Club will demonstrate its amazing range, as we look forward to a season that includes 'Our Town,' a 1938 drama, and two contemporary musicals 'Aida,' from 1998, and the very recent 'First Date,' from 2012," said Terence Hartnett, director of theater programs and assistant professor of English at Rose-Hulman.
Tickets for "Our Town" are $15 for adults and $10 for those under 18. Tickets for First Date and Aida are $20 for adults and $15 for those under 18. All tickets are general admission and are available at hatfieldhall.com, by calling 812-877-8544 or visiting the Hatfield Hall ticket desk Monday through Friday from 9 a.m. to 2 p.m. or one hour before each show.