Getting Creative to Design Toys for Children with Challenges
Friday, November 16, 2018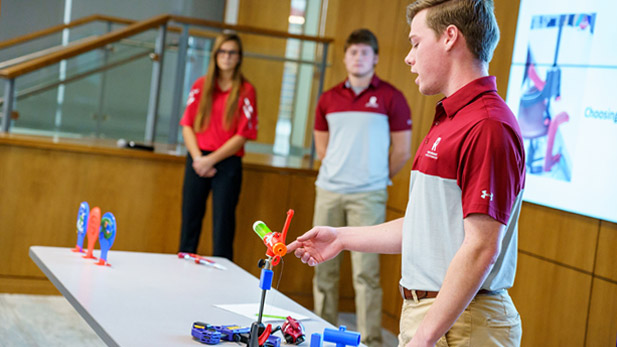 A lending library of a Terre Haute agency assisting children with fine motor skill and visual challenges will be stocked with a variety of brand new toys created by first-year engineering design and biomedical engineering students.
Using Rose-Hulman's Design Studio, 11 student teams mixed fun with learning this fall to give youths the ability to make bracelets, create colorful drawings, have a Bedtime Buddy or play such new or redesigned toys as a Spiderman Web Launcher, a Push N' Go Mower and Cooking Creation Game.
"Our students have a passion to help others, and they are doing that through these redesigned toys and other projects. They enjoy seeing that they have skills, even as first-year students, that can help others," says Patsy Brackin, head of the new engineering design academic program.
In most cases, students used computer-aided design (CAD) programming skills for 3D printing, software computing programs and soldering to create components of each projects in the first academic quarter of starting their college careers.
Once the toys are available, parents, teachers and therapists will be able to borrow them from Reach Services.
Among the creations were the Cooking Creation Game, which allows young chefs to follow recipes to create a pizza or chocolate cake. Correctly placing game pieces with the four main ingredients for each dish into a cooking pot causes the stove top to light up, providing a visual reward to the child.
Meanwhile, the Push N' Go Mower helps children with limited mobility pick up Ping-Pong balls by rolling the toy across the floor. Children are rewarded by seeing and hearing when each ball is collected by the mower.
"It's very satisfying to bring joy to others through something that we created. It was a labor of love for all of us," says biomedical engineering student Krista Manche, who suggested the project idea after using a similar-type device to pick up balls on a tennis court. Helping modify the idea were team members Tierney Greenhoe, Logan Jilek and Sydney Williams.
Engineering design student Braden Smith, whose team produced a puzzle box, sums up his experience in the class as twofold, "I like creating physical solutions to challenging problems. Being able to help kids was just icing on the cake."