Class of 2018 Advised to 'Build a Better World'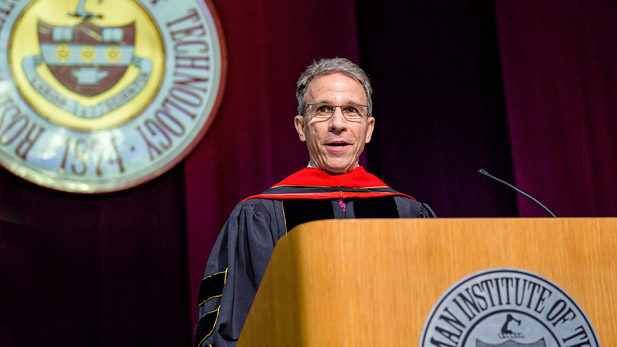 The future is now for nearly 500 students that earned bachelor's and master's degrees during Rose-Hulman's 140th Commencement on Saturday, May 26.
Another 52 members of the Class of 2018 were recognized in anticipation of completing academic degree requirements following the summer or fall academic quarters.
Approximately 90 percent of the new graduates are preparing to begin full-time employment, plan to attend graduate school, or are recently commissioned military officers, according to the Office of Career Services.  Twenty-eight percent of this year's graduates had more than one job offer, and the $71,080 average accepted starting salary offer for 2018 Rose-Hulman graduates is an all-time high for the institute. Top hiring companies include Rockwell Collins, Naval Surface Warfare Center-Crane, ArcelorMittal, Boston Scientific, Cummins, Edgile, Texas Instruments, Allegient, Eli Lilly and Company, North American Stainless and Valeo.
In presenting the commencement address, Caterpillar Inc. Chief Executive Officer Jim Umpleby told this year's graduates to "be brave, bold, open and compassionate – and build a better world," and always remember the personal relationships, family and friends that will be alongside them during every step of their careers.
That's what has happened to Umpleby, a 1980 mechanical engineering graduate, throughout his 38-year career with Caterpillar, one of 30 companies in the Dow Jones Industrial Average stock market index. It started after an impromptu 15-minute campus meeting with Don Ings, a Rose-Hulman alumnus who, as the plant manager of San Diego-based Solar Turbines, was on campus seeking prospective engineers. Umpleby wanted a job where he could make a difference and expand his skills.
Ings decided to take a chance on Umpleby.
Umpleby start as an associate engineer in 1980 at Solar Turbines, which became a Caterpillar subsidiary in 1981. He's held a variety of positions throughout his career including roles in engineering, manufacturing, marketing, sales and services, as well as spending six years in Southeast Asia on assignment in Malaysia and Singapore – rewarding experiences that taught him to view the world from a different perspective.
Since Jan. 1, 2017, Umpleby has been CEO and a member of the board of directors for Caterpillar, the world's leading manufacturer of construction and mining equipment, diesel and natural gas engines, industrial gas turbines and diesel-electric locomotives. He is leading the company's workforce of nearly 119,000 through the execution of a new enterprise strategy for profitable growth, based on operational excellence and making the company's customers more successful by providing expanded offerings of products and services. Caterpillar's 2017 sales and revenues were $45.5 billion, an 18-percent increase over 2016 levels.
Umpleby, a first-generation college graduate from Northwest Indiana, urged this year's seniors to seek new, challenging experiences outside of their comfort zones.
"Don't limit your career options based on your perceptions today. Take some risks and try something new during the decades to come. Create a diverse path for yourself. . . At best, you'll discover a new role at your company or in your community where you can have a positive impact and have some fun," he said.
Ings is now chairman of Rose-Hulman's Board of Trustees and retired as a vice president for Caterpillar. He introduced Umpleby as this year's commencement speaker.
Rose-Hulman presented Umpleby, a former student body president, with an honorary doctorate in engineering in 2016. He received the Alumni Association's Career Achievement Award in 2000.
In addition to the awarding of diplomas, the ceremony recognized seven members of the Class of 2018 for academic, leadership, extracurricular activities, and helping make Rose-Hulman a better place.
Receiving Heminway Medals for having the highest grade-point averages in the class were Lewis Kelley, from St. Louis, who majored in computer science, software engineering and computational science; David Mehl, a computer engineering graduate from Novi, Mich.; George Rung, from Mokena, Ill., who is computer engineering graduate; and Zhou Zhou, from Beijing, China, who earned degrees in computer science and computer engineering.
The Herman A. Moench Distinguished Senior Commendation was presented for the first time to two students: Vibha Alangar, from Strongsville, Ohio, who earned degrees in computer science and software engineering; and Charlotte Yoder, an electrical engineering graduate from Brazil, Ind.
Caroline Johnson, a mechanical engineering and biomedical engineering graduate from Arlington, Va., received the John T. Royse Award for all-around excellence in scholarship, extracurricular activities and caring for the campus community.
Commencement By The Numbers:
453 – Fall, winter, and spring bachelor's of science degree graduates
43 – Graduate-level degree graduates          
87% -- Placement rate at commencement
$71,080 – Average accepted starting salary (an all-time high for Rose-Hulman graduates)
28% -- Percentage of Class of 2018 that had multiple job offers
33 – States represented
Other Countries Represented (10): Bolivia, China, Denmark, Germany, Hong Kong, India, Iran, Russia, South Korea and Taiwan