Brian Dougherty Named Senior Director for Rose-Hulman Ventures
Thursday, November 01, 2018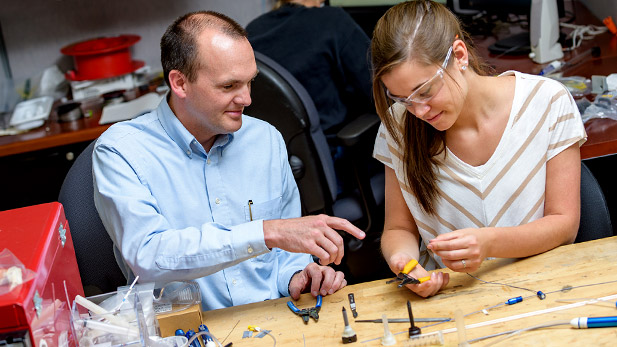 Brian C. Dougherty has been promoted to senior director of Rose-Hulman Ventures, a product design, rapid prototyping and development firm located on Rose-Hulman's south campus. He will report to Rose-Hulman President Jim Conwell.
Dougherty steps into this position after 18 years working with clients, project managers and student interns, primarily as the long-time director of engineering. He is listed on several patents, including many for minimally invasive brain surgery devices that are giving new hope to people with brain disease.
Other career accomplishments include developing, constructing, and maintaining all the production test equipment for a 750,000-square-foot production facility and developing a trade show prototype of a multi-channel parallel synthesis reactor system in 108 days.
Dougherty worked as a test engineer in private industry for several years after earning a bachelor's degree in electrical engineering from Rose-Hulman in 1993. The Terre Haute native added a master's in engineering management from the institute in 1999.
He replaces Elizabeth Hagerman in the key leadership role within the institute's educational mission. Hagerman has become chief innovation and strategy officer of Conexus Indiana, an organization promoting and growing Indiana's advanced manufacturing and logistics economy through collaborations between industry, academic and public sector partners.