Rose-Hulman to Take Up Residence at The Union 525 in Downtown Indy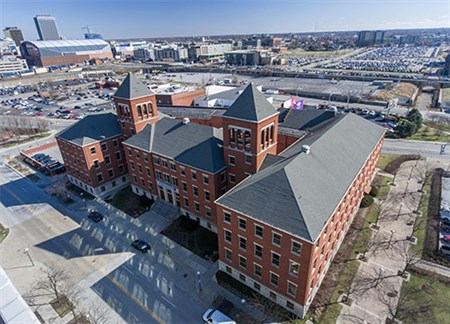 Downtown Presence: The Union 525 is a retrofitted school on the south edge of downtown that provides scale-up space for growing tech companies.
TERRE HAUTE, Ind. -- Terre Haute-based Rose-Hulman Institute of Technology will become a steady presence in Indianapolis with the decision to lease space in The Union 525, the downtown development providing scale-up space for growing tech companies.
The institute joins a growing roster of tenants—among them SmartFile, a file sharing solution company, and Scale Computing, whose co-founders include Rose-Hulman alumni Jeff Ready, the CEO, and Scott Loughmiller, vice president of engineering. Purdue Polytechnic High School will open in the building this fall. TechPoint, an organization promoting tech sector growth in Indiana, and Launch Indy, a co-working space for entrepreneurs, also will have operations within the building, a retrofitted school on the south edge of downtown that was the original home of Emmerich Manual High School and later Harry E. Wood High School.
"The Union 525 affords us the opportunity to engage with technology entrepreneurs and established companies, other educational institutions and STEM advocates in Indianapolis' growing tech sector, and provides space for new initiatives and continuing education," says Rose-Hulman President Jim Conwell. "Indianapolis has come into its own as a technology hub, and we are excited about the opportunity for more connection and collaboration."
Union 525 Managing Partner John Hurley remarks, "Rose-Hulman's commitment to innovation, education and excellence underscores The Union 525's ethos. We are thrilled that a leading-edge institution such as Rose-Hulman has selected The Union 525 for its Indianapolis location."
Earlier this year, Arizona-based Levementum, a customer relationship management and business consultancy, announced plans to set up an Indiana operation in the Union. The new tech hub is across the street from Rolls Royce and Eli Lilly & Co. as well as within walking distance of the new downtown Cummins complex and Salesforce Tower.
"Locating in the Union 525 will enable Rose-Hulman to assist in the ongoing development of central Indiana's tech sector," says Conwell. "We're looking forward to enriching our relationship with Indianapolis, the central Indiana business community and our alumni."