PRISM Workshops Give Teachers New STEM Tools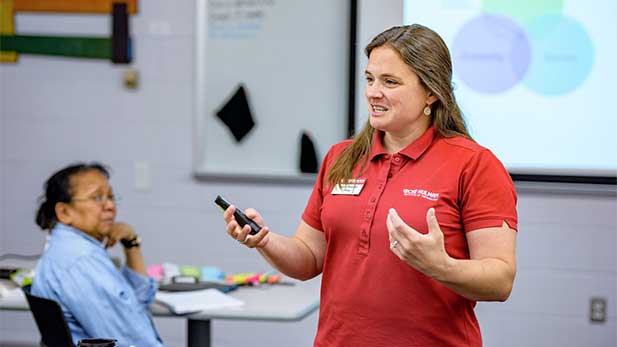 Thanks to summer workshops offered through Rose-Hulman, Vigo County middle school and high school teachers have new educational tools to incorporate robotics, sustainable engineering and genetic science in their classes to pique students' interest in science, technology, engineering and mathematics (STEM).
A $300,000 grant from the Indiana Department of Education has enhanced a partnership between Rose-Hulman's Portal Resource for Indiana Science and Mathematics (PRISM) program and the Vigo County School Corporation (VCSC).
Features of this summer's teacher workshops were:
Computer science and software engineering professor Matthew Boutell used VEX robotics to showcase real-world mathematics.
Mechanical engineering professor Rebecca Bercich showed how LEGO education kits can be used to teach physical science and engineering concepts.
Biology and biomedical engineering professor Renee Rogge discussed new ways to incorporate genetics, cell division and invasive species topics into science courses.
Civil and environmental engineering professor Jennifer Mueller-Price provided classroom topics on sustainable engineering.
Mechanical engineering professor Zac Chambers provided insight on the science behind aquaponics.
Physics and optical engineering professor Elaine Kirkpatrick and mathematics professor Felicia Tabing provided instruction on Seven Big Ideas in Calculus.
Biology and biomedical engineering professor Jennifer O'Connor taught current and future topics in biology.
Chemistry and biochemistry professor Rebecca DeVasher introduced new chemistry curriculum concepts.
Also, 36 high school students visited Rose-Hulman Ventures and the campus' Branam Innovation Center during a three-week College 101 STEM career awareness course, offered by VCSC. Lunch With An Engineer sessions gave the students a chance to meet with Rose-Hulman and VCSC high school alumni. The visiting engineers were Julie Hopkins, a process engineer at Hitachi High Technologies America; Jordan Thralls, design engineer at Precision Rings Inc.; and Thomas White, engineer with ArcelorMittal USA.
The PRISM program provides free digital resources to assist teachers in kindergarten through the 12th grade in meeting the Indiana College and Career Ready STEM educational standards. These efforts are led by PRISM director Patricia Carlson, educational liaison Bob Jackson and system administrator Ryan Smith.