Freddie Ravel Uses Music to Inspire
Monday, February 27, 2017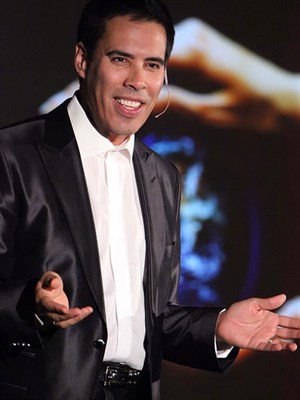 Freddie Ravel
Through his fingers and creative mind, pianist and inspirational speaker Freddie Ravel uses music to teach valuable lessons about diversity, leadership and collaboration to future technology, science and business leaders. He will bring those lessons to Rose-Hulman for an entertaining and informative presentation on March 13 as part of the institute's Diversity Speaker Series.
The event will be from 11 a.m. to 12:30 p.m. in the Hatfield Hall Theater. It is free and open to the public, but advance reservations are requested at http://tinyurl.com/FreddieRavel.
From parents of Latin American and Eastern European decent, Ravel rose from humble beginnings as a newspaper delivery boy to become an internationally renowned musical ambassador who has performed with Prince at the Grammy Awards, recorded with Madonna on the soundtrack for the movie "Evita," and toured the world with legendary Latin American musician Carlos Santana.
Ravel shares personal stories of how women and individuals from underrepresented groups have opened doors for him, beginning with his employment at age 23 by Brazilian producer Sergio Mendes to perform with the popular Earth, Wind and Fire group. In addition, he has collaborated as guest author of "Open My Eyes, Open My Soul" with Stevie Wonder, Muhammad Ali, Robert Kennedy Jr, Deepak Chopra and Maya Angelou, as well as with Martin Luther King Jr.'s daughter Yolanda King.
"Freddie Ravel drives home the message that when we embrace teamwork and inclusion, our collective melodies, harmonies and rhythms achieve the ultimate score—a world where human potential is raised and diversity drives organizations to succeed," says Janice Fenn, director of Rose-Hulman's Center for Diversity, which organizes the Diversity Speaker Series.
Ravel founded "The Rhythm of Success," a peak performance program to enhance leadership, innovation and collaboration for entrepreneurs and major corporations. He has made presentations for employee and leadership groups at IBM, Toyota, NASA, Apple, Morgan Stanley and Google.