Fifth Third Bank Provides $100,000 Grant to Fund Student Loan Initiative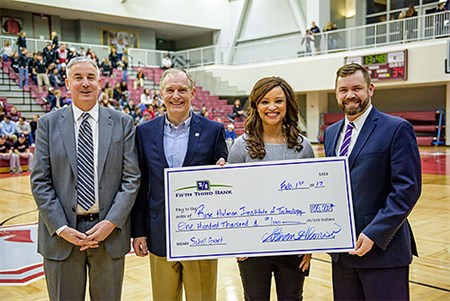 Supporting Students: A grant to establish a new student loan program was recognized Feb. 1 during halftime of a men's basketball game. Celebrating the donation were (from left) Rose-Hulman President Jim Conwell; Kevin Hipskind, Fifth Third Bank's market president for central and northwestern Indiana; Scenario Adebesin, Fifth Third Bank's regional vice president of community economic development; and Steve Brady, Rose-Hulman's vice president for institutional advancement.
Fifth Third Bank has awarded a $100,000 grant to Rose-Hulman from the Charles E. Schell Foundation. The grant will fund interest-free educational loans to help Rose-Hulman students realize their dreams of becoming an engineer, scientist or mathematician.
The first loans will be provided for students from select regions of the country attending Rose-Hulman in the 2017-18 academic year. Students must maintain a minimum 2.0 grade-point average to retain loan eligibility throughout their college careers.
"This is a wonderful opportunity with dual benefits to students," says Steve Alonso, regional president and chief executive officer of Fifth Third Bank. "It not only gives them the opportunity to receive, but also to give back to the student loan fund at Rose-Hulman. Charles Schell, the trust's founder, wanted to give students this ownership, and with the obligation to repay the loan, the benefits will perpetuate; allowing today's recipients to help future students in need. We are happy to help facilitate this for such a well-respected institution."
The unique "pay it forward" condition for the grant established by the Schell Foundation ensures that when award recipients repay the funds, they create opportunities for other students to benefit from the grant. The repaid funds go toward additional interest-free educational assistance loans for new students.
"These loans set up a cycle of funding that will help students well into the future," adds Rose-Hulman President Jim Conwell. "We applaud Fifth Third Bank and the Schell Foundation for creating this opportunity for students to fulfill their aspirations of earning degrees in science, engineering and mathematics in the nurturing environment of a private college education. It is exciting to know that, in future years, new students will reap benefits as the graduates repay the loans."
Conwell notes that Rose-Hulman alumni have one of the highest loan repayment rates among U.S. higher education institutions, averaging 98 percent annually.