Noel Moore Achievement Awards 2017-18
Friday, November 10, 2017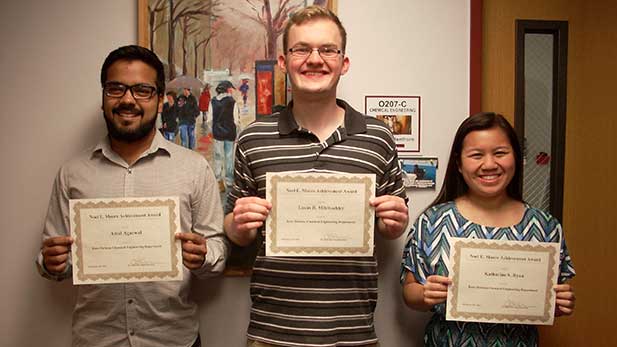 Every quarter the Department of Chemical Engineering awards at least three students with the Noel Moore Award. This award recognizes good attitudes toward learning that make the honorees great role models.
Amol Agarwal (Sophomore)
Amol Agarwal earned this award because of his displays of initiative and enthusiasm in and out of the classroom. Amol is always prepared for lectures and eagerly participates in class discussions. His work is neat, accurate, and carefully presented. Amol shares his musical talents with the community through his membership in the Rose Chorus and RHIThm A Capella Group, and he currently serves as the vice president of the International Student Association. Congratulations, Amol!
Lucas B. Mihlbachler (Junior)
Lucas is being recognized for his enthusiastic participation in the learning process. He is attentive and inquisitive in class, fully participates in activities, and seeks help as needed during office hours. Lucas is a pleasure to have in class. Congratulations, Lucas!
Katharine S. Ryan (Senior)
Katie Ryan is recognized for her positive contributions in the classroom and to the campus community. Katie actively contributes to her classes, providing thoughtful comments and asking questions that help open the classroom environment for her peers. She is active in undergraduate research, where she has developed a gas chromatography method for detecting products derived from fatty acids. She has done a great job sharing her research work with another student who is getting started on the project. Katie is also active in extracurricular activities, including community service events and acting as the current vice president of AIChE. Keep up the great work, Katie!