Alumnus' Unique Gift Supports Teaching Excellence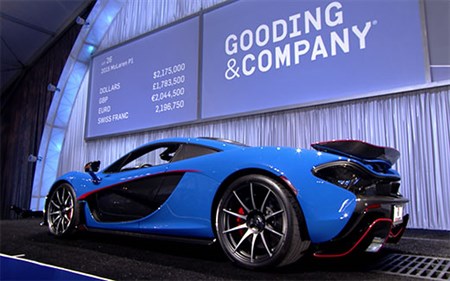 On Auction Block: A unique 2015 McLaren P1, donated by an anonymous alumnus, was featured in an auction by Gooding & Company in Amelia Island, Fla., on March 10.
A one-of-its-kind McLaren P1 hypercar brought in a world record $2.39 million price on auction Friday afternoon, with the proceeds supporting Rose-Hulman Institute of Technology and the endowment of a faculty chair for the national leader in undergraduate science, engineering and mathematics education.
The vehicle, owned by a Rose-Hulman alumnus, was auctioned by Gooding & Company in Amelia Island, Fla. The winning $2,392,500 price, after a 10 percent buyer's premium,  was the largest auction price for a McLaren P1 car in the world, according to Gooding & Company President David Gooding.
"This was a very special car supporting a very special educational institution that's very near and dear to its original car owner's heart," Gooding says.
This was the first exotic car auctioned off to benefit Rose-Hulman.
The 2015 McLaren P1's distinctive craftsmanship, approved by McLaren Automotive's head designer Frank Stephenson, created "a showcase of cutting-edge technology and inspired design applied to automotive engineering," touted Gooding & Company's promotional materials about the car. The car's precision acceleration, handling and braking allows it to reach speeds of 200 mph on the open road.
"My original intent was to have a one-of-its-kind car designed and created so that it could bring a record price to support a unique higher education institution that values quality teaching and instruction, and has faculty that love to share that knowledge with peers and others," remarks the donor, who wishes to remain anonymous at this time. "Almost as important as the car's auction price, and the donation, is the notoriety that Rose-Hulman has received on a national stage in the weeks leading up to the sale. I want people to recognize Rose-Hulman for the great trailblazing institution that it is."
All of the auction's proceeds will establish the Alfred R. Schmidt Chair for Excellence in Teaching, honoring one of the institute's legendary faculty members. The faculty chair will support creation of transformative learning experiences in the classroom and provide opportunities for national engagement with other exceptional scholars.
"We're delighted with the amount the car brought at auction and the unique way this donor has chosen to support his alma mater," says Rose-Hulman President Jim Conwell. "The impact of this gift on teaching and learning cannot be overstated."
Conwell notes that the donation from the auction is one of the highest in institute history to support the establishment of a faculty endowed chair. (Last year, a car-collecting benefactor sold a 1929 Duesenberg Model J "Disappearing Top" convertible coupe at RM Sotheby's Motor City auction, with the $1.54 million proceeds going to Michigan's Hillsdale College.)
"We have always invested in teaching, and this generous gift reinforces that commitment while enabling us to continue attracting and retaining world-class faculty. I can't think of a better way to honor Professor Schmidt's legacy," adds Anne Houtman, vice president for academic affairs.
Schmidt, an inspirational mathematics professor for 46 years until his retirement in 1995, was one of Rose-Hulman's most loyal alumni and longest-serving professors. He helped launch the institute's successful Operation Catapult, a program that has brought rising high-school seniors to campus each summer to learn about science and engineering. The 1949 mechanical engineering graduate died in 2007.