Alumna Seeking to Make a Difference as Orr Fellow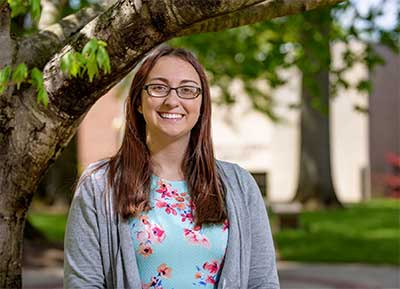 Morgan Cook
With her newly minted software engineering degree in hand and a range of possibilities before her, Morgan Cook headed straight to Indianapolis to join a startup computing enterprise.
Cook is one of a select group of 2017 Indiana and Ohio college graduates participating in the Robert Orr Fellowship program, a highly competitive postgraduate experience providing Indianapolis companies with vibrant young professionals bringing skills in technology, business, management and finance.
In addition to full-time employment for two years, Orr Fellows benefit from executive mentorship, a strong network of young professionals, and skills that will be valuable to their career development.
"There's a passion within the Orr Fellows, present and past, that was very attractive," says Cook. "I wanted to grow as a professional and as a person early in my career, while knowing that what I'm doing is making a difference for others. Also, Indianapolis is such an exciting place to be right now in cutting-edge technology development."
The Terre Haute native is utilizing her passions for computing, problem solving and project management to help Zylo assist companies in managing and optimizing their growing number of cloud-based applications. Launched in downtown Indianapolis in the summer of 2015 by software veteran Eric Christopher, Zylo was named by Spend Matters as one of 2017's 50 technology companies to watch.
"Zylo is a small company whose employees are all committed to effecting change in the technology landscape," she says. "Every day brings different challenges. You always have to be ready and looking forward. That's why I went into computing technology."
Among the growing number of female students attracted to computer science and software engineering at Rose-Hulman, Cook helped form the institute's Women of Like Fields Passionate About Computing (WOLF PAC) club to support and encourage more women toward technology careers. (Women made up 15.6 percent of tech sector employees in a 2015 national study.)
"I was intrigued by computers, and was ready for the challenge of learning something new and exciting," she says. "I knew that computing was the next frontier, and I wanted to be a part of it. I haven't been disappointed so far."
Along with her strong academic background, graduating with high honors, Cook also completed useful summer internships with Progressive Insurance in Cleveland and Booz Allen Hamilton Inc. in Washington, D.C. At Rose-Hulman, Cook was a leader in the institute's orientation program for new students as well as Delta Delta Delta sorority and Residence Hall Association. She is a second-generation Rose-Hulman graduate.  
"I'm ready for this next adventure," she says. "The Orr Fellows are an exciting group of really bright and energetic young people who share a passion to learn new things and help make a difference in society."