Mechanical Engineering Professor Helps Make Materials Science Discovery
Tuesday, November 28, 2017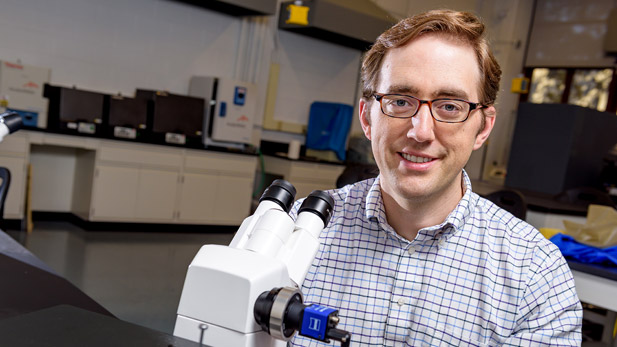 Rose-Hulman mechanical engineering professor Patrick Cantwell has contributed to a groundbreaking discovery in materials science by a team of international researchers. This finding could lead to engineering materials that are stronger, less likely to break, and possess enhanced electrical, magnetic and other physical properties.
The discovery of ordered, segregation-induced superstructures at general grain boundaries challenges a traditional view in physical metallurgy, according to Cantwell, co-author of a paper on the research findings. He further states that grain boundary complexion transitions are the root cause of a wide variety of materials phenomena – such as abnormal grain growth, grain boundary embrittlement and activated sintering – that have defied mechanistic explanation for years.
That's why this research has been featured this fall in Science, one of the nation's leading scientific journals. Cantwell is the first Rose-Hulman professor to have a research paper published in Science. He also was the lead author on a review article, published in 2014, on a related topic that has been highlighted as one of the most significant articles on this topic, with over 165 citations since its publication.
Grain boundaries are internal interfaces in polycrystalline materials that often control bulk material properties. The segregation of alloying elements or impurities to grain boundaries can significantly alter, and, in some cases, severely degrade the mechanical and physical properties of engineering materials.
In a broader scientific context, this study enriches the fundamental understanding of two-dimensional interfacial phases or complexions that can influence materials processing, microstructural development, and a spectrum of mechanical, electronic, and other physical properties of both metallic and ceramic materials.
This discovery culminates a six-year research project led by Martin Harmer of Lehigh University. The lead author on the study was Zhiyang Yu, a faculty member at Xiamen University of Technology in China. Yu and Cantwell are former postdoctoral research associates in Harmer's research group at Lehigh. Other co-authors include Denise Yin of Lehigh; Qin Gao, Gregory S. Rohrer and Michael Widom of Carnegie Mellon University; and Jian Luo, Yuanyao Zhang and Naixie Zhou of the University of California at San Diego.
"I was fortunate to be part of a great team of top scientists in this field," Cantwell said. "As with any research, there's a lot of patience involved. It takes a strong team to pull everything together and then communicate the research to others."
An expert on transmission electron microscopy along with the study of grain boundaries and nanocrystalline alloys, Cantwell is establishing a materials research program at Rose-Hulman to help undergraduate students understand the fundamentals of materials science and engineering. He has encouraged students to participate in summer research programs with leading scientists and engineers.