Hands-On, Real-World Experiences Recognized Nationally
Friday, November 10, 2017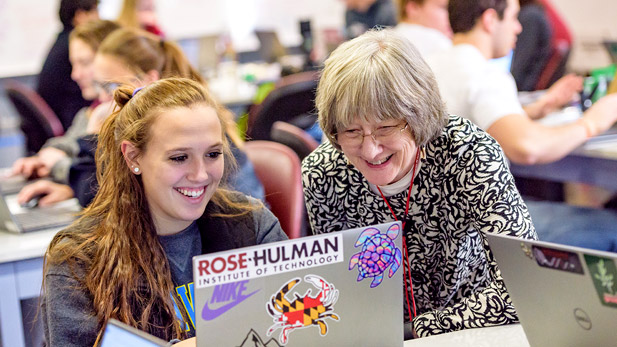 TERRE HAUTE, Ind. – ABET, the global accreditor of college and university programs in science, technology, engineering and mathematics disciplines, has cited Rose-Hulman among six U.S. higher education institutions for providing innovative design program approaches to undergraduate engineering education.
In particular, Rose-Hulman was highlighted for presenting impactful engineering design experiences through focused small-team work. These team projects, where students develop solutions to authentic real-world problems using the theories they've learned in the classroom, are included throughout Rose-Hulman's engineering curriculum, starting in the first year.
In its recent report, "Engineering Change: Lessons from Leaders on Modernizing Higher Education Engineering Curriculum," ABET states that Rose-Hulman's faculty and academic leadership "have paid close attention to its students, their strengths and technology itself."
Rose-Hulman joined Massachusetts Institute of Technology, Rice University, Worcester Polytechnic Institute, Boston's Olin College of Engineering and Maryland's Capitol Technology University in being cited in the ABET report.
Patsy Brackin, professor of mechanical engineering, adds that Rose-Hulman is offering "classes that prepare engineering students for multiple careers in a rapidly changing environment. We emphasize fundamental concepts and techniques that will last longer than present technology."
This fall, design principles taught by Brackin and other faculty members helped first-year biomedical engineering students modify toys for play by children with motor skills and visual challenges. For several years, first-year mechanical engineering, electrical and computer engineering and civil engineering students have created design projects while learning design principles, communication skills and the importance of teamwork that will provide useful skills throughout their engineering careers.
"One of our greatest strengths is our ability to develop leaders in an environment where students receive individual support and attention from the moment they first step onto campus," said Anne Houtman, Rose-Hulman's vice president of academic affairs.
ABET is highlighting Rose-Hulman for equipping graduates for success in a rapidly evolving global economy. Projections estimate that a million more college graduates will be needed to meet pending global challenges.
"The delivery of STEM curriculum in the age-old tradition of higher education is no longer effective for the business needs of today and tomorrow," ABET Chief Executive Officer Michael Milligan stated in an ABET news release. "If we will meet the current and future demands for dynamic engineering talent, universities must rethink the role of engineers in our society and offer curriculum that prepares them to meet and overcome the challenges confronting the world today and tomorrow."
Several of Rose-Hulman's corporate partners that have engaged with academic departments on curriculum changes to give students the skills to meet future business needs, to gain early access to students for internship and co-op programs, and to enhance the ability to recruit graduates for employment opportunities.