Edwards Lifesciences Chairman/CEO Michael Mussallem Ready to Serve Rose-Hulman as Trustee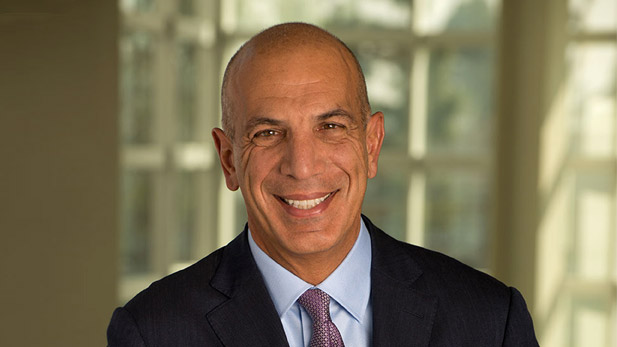 One of the nation's most influential healthcare leaders, Edwards Lifesciences chairman and chief executive officer Michael A. Mussallem, an alumnus, is the newest member of the Institute's Board of Trustees.
Under Mussallem's executive leadership since 2000, Edwards Lifesciences has been at the forefront of patient-focused medical innovations for structural heart disease, as well as critical care and surgical monitoring. The company, based in Irvine, Calif., collaborates with the world's leading clinicians and researchers to address unmet health care needs, working to improve patient outcomes and enhance lives.
"As a national leader in healthcare and healthcare policy, and with a personal passion for philanthropy and corporate social responsibility, Mike Mussallem will bring valuable insights to our board," says President Jim Conwell. "His long-standing support of Rose-Hulman and his dedication to our mission help us ensure that the institute remains nationally distinguished for undergraduate science, engineering and mathematics education."
Mussallem serves on the board and executive committee of the Advanced Medical Technology Association and is a trustee of the University of California, Irvine Foundation. He is the former chairman of the board of directors of both AdvaMed and the California Healthcare Institute. His leadership of Edwards Lifesciences came when the company spun off from Baxter International, where he had held positions in engineering, product development and general management since 1979.
Mussallem earned a bachelor's degree in chemical engineering from Rose-Hulman in 1974, received an honorary doctorate of engineering degree from the college in 1999 and was the featured speaker at the institute's 2015 commencement.
"I am very proud to be a graduate of Rose-Hulman, which is an amazing place with an unmatched educational experience, a unique culture and an outstanding reputation," says Mussallem.  "I am humbled and honored to provide service to Rose-Hulman as part of the Board of Trustees."   
Linda and Mike Mussallem donated the $9-million lead gift for Rose-Hulman's $25-million expansion and renovation of the institute's student union, which is slated for completion in 2018. The gift was motivated by the Mussallems' desire to make a positive impact on student health. The project puts a focus on healthy dining options, including a demonstration kitchen and "farm to fork" food options, as well as expanded social, learning and collaboration spaces for students.