Q. What is a typical Operation Catapult day?
A. The Catapult schedule varies from day to day and most definitely from week to week. Each morning, you will assemble in Hatfield Hall for announcements and information that will assist you throughout the day. Typically, you will be involved in the lab with your project group during the morning and afternoon sessions.  Time spent in the labs interacting with faculty on your project is the main focus of Catapult. Intramurals, guest lectures, trips to major corporations, and fun activities are all part of the Catapult experience.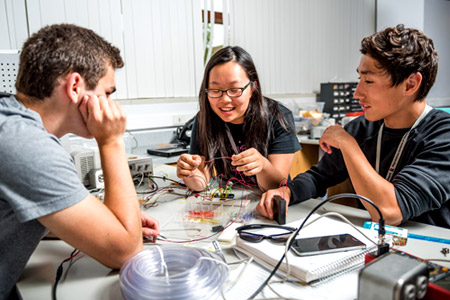 Q.  Who teaches in the program?
A.  Members of Rose-Hulman's full-time faculty who combine professional expertise and personal attention to form an atmosphere in which our students thrive.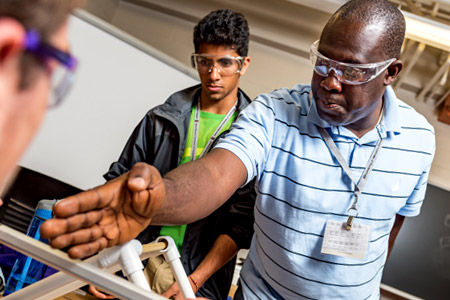 Q.  Are there facilities for recreation and leisure on campus?
A.  Yes, our Student Recreation Center (SRC) is available for your use during Operation Catapult. It includes a competition-sized swimming pool, basketball courts, racquetball, indoor track, weight room and cardiovascular equipment.  You can also enjoy hiking, the campus lakes and the game room.
Q.  Where is Rose-Hulman Institute of Technology?
A. Rose-Hulman is located in Terre Haute, Indiana. The city is approximately one hour from Indianapolis, three and a half hours from Chicago and three hours from St. Louis, Louisville, and Cincinnati.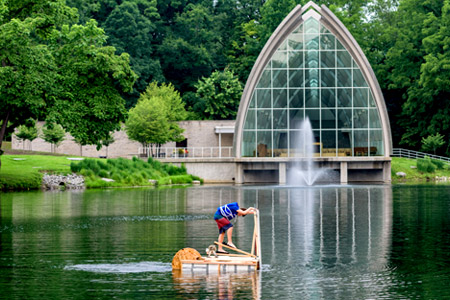 Q. Where will I stay?  Are the rooms air-conditioned?
A. During your stay at Rose-Hulman you will live in one of our residence halls. You will have a roommate in our very comfortable rooms. The two to four person rooms are air-conditioned and furnished with beds, desks, study lamps, bookcase and combination closet/drawer space.

Q. Where will I have meals? What if I have special dietary needs?
A. Most meals will be served in the dining facilities located in the Mussallem Union. Pizza parties and picnics will be planned for meals not served in the dining hall. For special diets or religious observations, contact Deborah Robinson, Dining Services (812-877-8833) or email: robinso4@rose-hulman.edu.

Q. Is financial aid available for Catapult?
A. Students are often successful at finding scholarships and aid from their hometown companies, Kiwanis Clubs and other organizations. We encourage you to explore these options. If these companies or organizations have questions about Catapult please direct them to the admissions office.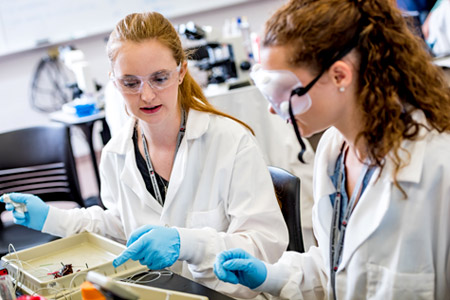 Q. What will I need to bring in the way of clothing and personal items?
A. Casual Clothes: shorts, T-shirts, jeans, athletic shoes (all acceptable in and out of the classroom). Dress Clothes: Semi-formal attire (closing reception).  Athletic Equipment: Tennis Racquet, Softball Glove, Swimsuit.  Linens: Towels & Washcloths, Blanket.  NOTE: All bed linens will be provided by Rose-Hulman.  Miscellaneous: Toiletries (soap, deodorant, shampoo, etc.), Alarm Clock, Small Radio, Camera.  Long pants and close-toed shoes are required for labs and field trips.

Q. Do I need to bring my computer?
A. We recommend bringing your laptop with you to Catapult. If you do not have one, a computer lab will be available to Catapult students during regular hours.

Q. What types of medical and health services are available?
A. The Health Office, located in the Mussallem Union, is open Monday - Friday. The campus nurse is available for regular medical needs such as administering allergy shots. There are two major hospitals within a 15-minute drive of campus in Terre Haute in addition to our campus services. Catapult staff are trained to handle emergency situations if they were to arise.

Q. How do I receive mail during my Catapult stay?
A. Mail and packages can be sent to:               
YOUR NAME
OPERATION CATAPULT
ROSE-HULMAN INSTITUTE OF TECHNOLOGY
5500 WABASH AVENUE
TERRE HAUTE, IN   47803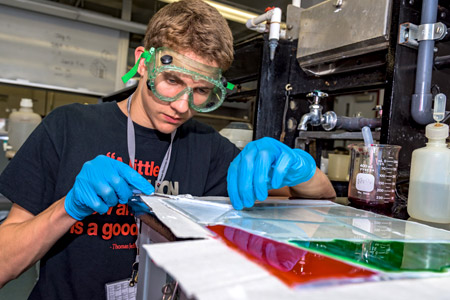 Q. When is the application deadline?
A. See the Costs & Dates page.
Q. Is Catapult worth college credit at Rose-Hulman? 
A. Yes! Successful completion of Catapult earns you two free elective credit hours when you attend Rose-Hulman.
Q. How much extra spending money should I bring to Operation Catapult?
A. We suggest between $100 and $150. Students will have the opportunity to buy souvenirs and snacks and go on small trips; however, this is all optional.

Q. What are arrival and departure times?
A. Please do not make any travel arrangements until you have received application approval from the Office of Admissions.  You may either fly or drive to Operation Catapult; you will receive a final confirmation packet with all transportation details so that you can make travel plans. Rose-Hulman will provide shuttles to and from the Indianapolis International Airport, which is about 60 minutes east of Rose-Hulman. More details will be found in the final packet. If you have any questions about travel arrangements, please call 812-877-8213 for assistance.
Q. What impact will COVID-19 have on programming?
Summer 2021 camp planning is now in process with the expectation that participants will comply with all policies and procedures required by Rose-Hulman related to the pandemic. Please visit our Rose Ready page for further details.