Dailey & Vincent's "All I Want for Christmas is Y'all" Coming to Hatfield Hall Theater
Tuesday, November 30, 2021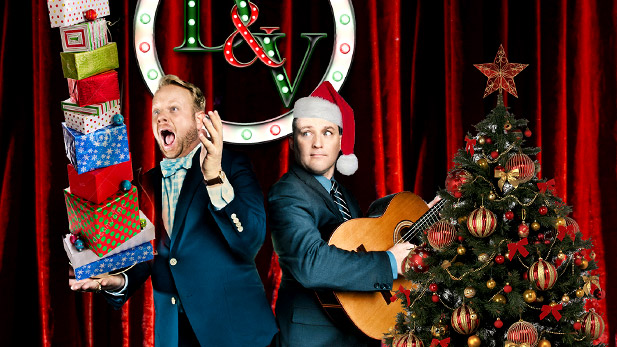 The sounds of Dailey & Vincent, an American bluegrass music duo, make their way to Terre Haute as they perform "All I Want for Christmas is Y'all" at the Hatfield Hall Theater on Wednesday, December 8, at 7:30 p.m. The show is part of Rose-Hulman's Performing Arts Series.
Multi-Grammy Award winners Jamie Dailey and Darrin Vincent are among the most reputable and elite entertainers in American music. Dailey & Vincent's sound is a concoction of traditional country, bluegrass and gospel music.
Dailey (guitar, bass, vocals), Vincent (mandolin, guitar, bass, vocals) and their band have released nine albums since they formed in 2007. The band has won 13 awards from the International Bluegrass Music Association and 23 awards from The Society for the Preservation of Bluegrass Music of America. In addition to performing live at concerts and festivals throughout the country, Dailey & Vincent can be seen on their variety-style television show on the Circle Network. 
The "All I Want for Christmas is Y'all" tour will feature the best of Dailey & Vincent original music and Christmas songs, including "Rocking Around the Christmas Tree," "Mary Did You Know," "Road to Bethlehem," "Go Thee Down, Carol of the Bells," "Mr. Grinch," "Go Tell it on the Mountain," and many more holiday favorites.
Tickets for Dailey & Vincent's "All I Want for Christmas is Y'all" are $35 for adults and $18 for those under 18 years old. Tickets can be purchased at hatfieldhall.com, by calling 812-877-8544, or visiting the Hatfield Hall ticket desk Tuesday through Friday from 9 a.m. to 2 p.m. If still available, tickets also could be purchased at the ticket desk beginning one hour before the show. Hatfield Hall health and safety policies currently require people to wear masks while inside the venue.