Learning Center Named Private College Program of Year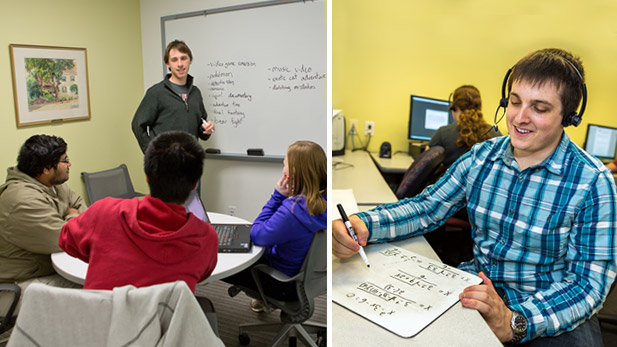 Providing a variety of academic services to assist students in overcoming their academic challenges, the Learning Center has been cited as the 2018 Program of the Year for private colleges and universities by the National Tutoring Association. The honor was presented at the organization's recent national conference in Tampa, Fla.
The Learning Center offers programs that enhance students' academic performance, reinforce classroom teaching concepts and promote lifelong learning opportunities. The center also provides services in residence halls to assist sophomores in completing academically challenging courses in the Rose-Hulman curriculum.
During the 2016-17 school year, 88 percent of Rose-Hulman's first-year students used Learning Center services. Students also made nearly 20,000 visits to the Center to utilize programs throughout that year, according to Learning Center senior director Susan Smith Roads.
The Learning Center is staffed by approximately 60 Rose-Hulman students. All services are free to Rose-Hulman students.
Students may meet with a tutor for an individual session or have small group meetings for assistance in science, engineering and math courses. Writing tutors assist with essays, research papers and thesis projects. Final exam review sessions for select courses are provided to students during the last week of each academic quarter.
The Learning Center is also home to Rose-Hulman's Homework Hotline, a free math and science tutoring service that's available for students in grades 6-12 Sundays through Thursdays from 7-10 p.m. Students can call 877-ASK-ROSE (877-275-7673) to speak with a tutor or email/chat with a tutor on the Homework Hotline website, AskRose.org, from mid-August through May each school year.
Approximately 130 Rose-Hulman students serve as Homework Hotline tutors, with more than 30 tutors available each night to answer calls and online requests. These tutors have been selected for their technical knowledge and communication skills. They don't give answers to problems, but are trained to guide student requests to help them better understand math and science concepts.
The Homework Hotline conducted 33,897 tutoring sessions during the 2016-17 school year. Seventy-three percent of the requests were for math assistance.