Summit Taking Look Inside Big Data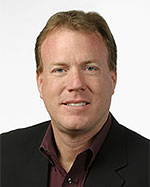 Jim Daily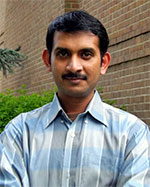 Pritam Chanda
Rose-Hulman's inaugural Big Data Summit on Saturday, March 25, will showcase ways organizations can deal with the large volume of data they amass and opportunities for mining this valuable information.
Sponsored by General Electric Company and offered at no charge to participants, the summit will take place from 10 a.m. to 4 p.m. on campus. It will feature guest speakers, case study presentations and panel discussions from big data analysts at GE, other corporations, and Rose-Hulman.
Jim Daily, vice president and chief digital officer for engineering and technology for GE Aviation, will present the keynote address on how his division uses big data in its operations. Meanwhile, Pritam Chanda, senior research scientist for Dow AgroSciences, will provide insight on how the agricultural industry applies deep learning practices with big data.
GE Aviation formed a digital organization in early 2016 that brings all of the division's digital expertise into one business entity. Daily leads this group and is responsible for digital platforms and digital engineering and technology. He also leads the technology development for the aviation systems business.
Daily joined GE in 2011 after a 22-year career at Honeywell in several engineering and business roles, leaving after serving as vice president of the Electronics Center of Excellence. He earned the company's highest award for product development in 2009.
Chanda is the technical leader of several data analysis projects and initiatives within Dow AgroSciences' computational biology group in Indianapolis. He formerly was a postdoctoral research fellow in Johns Hopkins University's Department of Biomedical Engineering, and has contributed to several patent, conference and academic journal projects.
Daily and Chanda also will participate in a panel discussion on "Driving Results with Big Data and Addressing the Talent Shortage," alongside Rose-Hulman faculty members Yosi Shibberu, professor of mathematics, and Sriram Mohan, associate professor of computer science and software engineering. The session will be moderated by Elizabeth Hagerman, vice president of corporate engagement at Rose-Hulman.
Other Rose-Hulman faculty members will examine big data issues, and why they are important today and for the future. Discussing these topics will be Mohan, Shibberu and assistant mathematics professors Eric Reyes and Christina Selby.
Summit attendees will have the opportunity to explore specific topics in more depth during tabletop discussions at lunch. Topics include ethics and data-driven decision-making, deep learning and artificial intelligence, Internet of Things, Hadoop, data visualization, modeling for prediction vs. understanding, and getting started in data science.
Advance registration is requested for the summit, either online at http://bit.ly/2myz5eQ or through Ali Fell, coordinator of the Office of Corporate Engagement, at fell@rose-hulman.edu.