Overview Through the generosity of Joseph and Reba Weaver, Rose-Hulman awards several grants each year to support undergraduate research conducted on campus. Starting in summer 2014 Rose-Hulman created Rose Summer Undergraduate Research Program (RSURP) and supplied additional funds to allow additional students to take part in the program. Typically each student works with a faculty mentor for a period of eight to ten weeks during the summer, often in a lab setting or in collaboration with other students. Upon completion of the research the students must present their research, often in the Interdisciplinary Research Collaborative annual conference, and submit a report on their research. The reports are published in the Rose Scholar digital archive.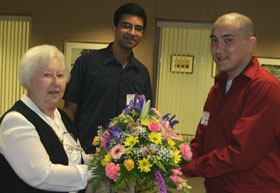 Reba Weaver
and 2005 awardees Hari Ravindran and Derek Trobaugh

Joseph Weaver was a 1935 Rose-Hulman chemical engineering graduate who received an honorary doctorate in engineering from the college in 1985. The Marshall, Ill., native was co-founder and board member of Regency Electronics, and founder and chairman of the board of Printed Wiring at Indianapolis. He died in 1988. His wife, Reba, established the Weaver Undergraduate Research Award program to memorialize her husband and enhance the Rose-Hulman undergraduate experience.


Eligibility and covered expenses Currently enrolled freshmen, sophomore, and junior students in good standing (not on any kind of probation) are eligible. In the summer 2017 sixten students received a stipend for ten weeks work (and on-campus housing if needed). Equipment and supply costs for the research are typically provided by the department(s) hosting the research.

What's that picture? The picture in the upper left hand corner was clipped from a student's 2011 proposal. It is a graphical model of the pyrene molecule.