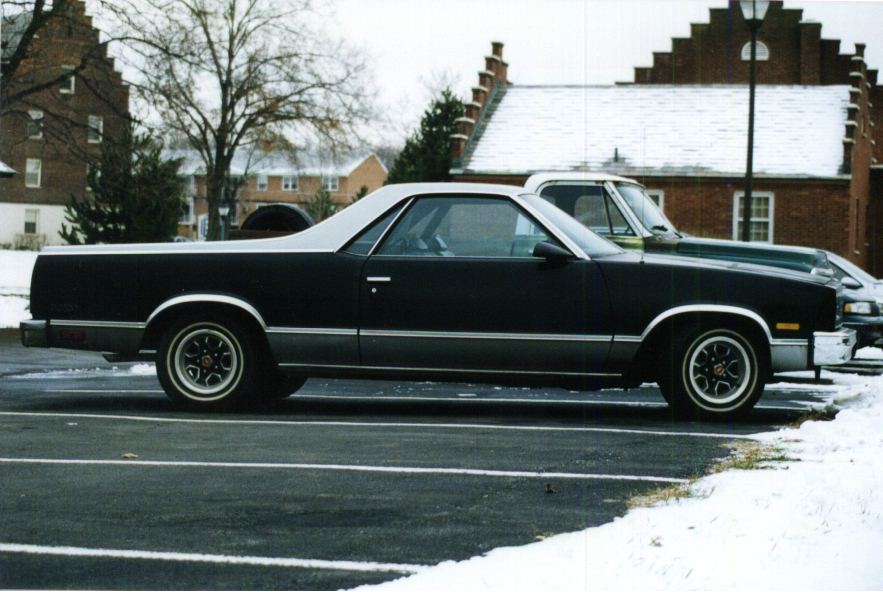 This is a picture of my 86 El Camino Conquista. It is loaded to the gills and everything works. In the background, you see my prior main mode of transportation, a 71 Chevy C20. Here are some features of the El.
305, four barrel
200 overdrive with shiftkit*
342* with posi* and sway bar*
Progressive rate rear springs*, KYB shocks all around*, polyurethane end-links*
A/C, tilt, cruise, full gauges*, Grant signature series steering wheel*
Power steering, power brakes, power antenna*,
Power windows, power door locks
Five spoke mag wheels*
* : My modification.

For those of you who know what the following means, some data from last year (1998). Further down are the data for this year.
Modification
E/T
Stock
17.5
K&N
17.3
342 Posi
Progressive rate rear springs
Rear sway bar
KYB shocks all around
Polyurethance end-links
A disappointing 17.0. I just have to get more torque.
Ram air
17.3 (deep) The car is running very consistent all evening long. For now, I'll leave the E/T alone and focus on winning some races. The deep staging gives me consistent R/Ts in the .560s which is good enough for me right now. I wasn't too focused yesterday, but I am looking forward to next Wednesday.
160 thermos
No improvements. Actually, my times fluctuated more than before. I since have improved the flow to the ram air intake. Also, I need to get a new, clean, bigger radiator.
improved airflow, rebuilt carb
My R/Ts were right on the money yesterday. I lost in the first round to one of the most accomplished racers. I got him on the starting line with a 515 light. However, it got real cool and my car just ran better than usual. I broke out by less than 3/100s of a second.
1999 Season:
| | |
| --- | --- |
| Modification | E/T |
| Flowmaster 50s Series Muffler with Delta Technology | The car felt like it had more power in the high end, but it did not show up on the track. Btw. there is a little bit of a rumbling at idle. But no sound at speed. I like it that way. |
| Griffin Nascar Aluminum Radiator | I mostly put this in because the old one was not cutting things anymore, plus, I want to take the car up Mount Washington, N.H. The radiator sure keeps the temperature gauge glued to about 160. (170 w/ A/C on on a hot day.) |
| A can of Restore Engine restorer and a can of STP fuel system cleaner (to remove carbon deposits) | The car felt real light-footed and it showed up on the track. I started the evening with a 17.3 (deep) and the times dropped by 5/100 every run. When I came down to 17.2 (deep) I knew I could get into the 16s. So I put down the tailgate, removed the bed-liner, spare, jack, and the tool box, staged regularly, and wouldn't you know it, ran a 16.93. Now, in all fairness, I don't think I could have run that without the muffler. Initially, I was not sure whether the engine restorer was going to work because I am running synthetic oil. But much to my amazment it did make a difference. The engine cleaner made a differnence too I am sure. |
I since made some other modifictions to the car.
I put five spoke 15" Mag wheels off a Camaro with Hoosier tires on the car.
I dropped a new engine into the car.
I modified the transmission with a shiftkit.