Name: Munawar Karim
Address: Dept. of Physics, St. John Fisher College, Rochester, NY 14618
Phone: 716 385 8365
Fax: 716 385 7311
E-mail: karim@sjfc.edu
---
---
LOW COST APPARATUS
Apparatus Title: Acceleration Demonstrator
Abstract
Device to demonstrate both direction and magnitude of linear and centripetal acceleration.
Support required for apparatus: Need clear floor space to drive the car (small room size).
Approximate size: Length of car, about a foot.
Does this apparatus require Electrical Power? no (has internal batteries)
Is this apparatus intended for use with an overhead projector? no
Will you be present to set up your apparatus? yes
When do you plan to set up your apparatus? Sunday, July 30 2-4:30 PM
Equipment required to construct apparatus:
Toy car and radio-control unit from Radio Shack, clear plastic tube 1/2" diameter, total length about 4 ft. Elbow joints, glue, fixing hardware.
Item Source/Store Part Number Cost
Total cost...$50.00
Sketch of the apparatus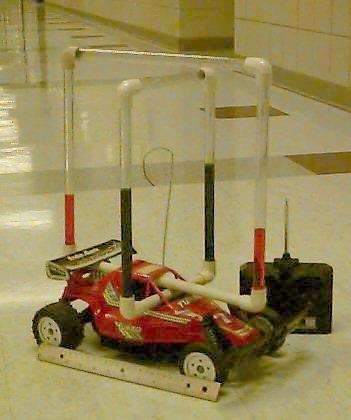 Description
I have equipped a toy radio-controlled car with two orthogonal accelerometers. These are simple plastic U-tubes filled with colored water. One U-tube is aligned forward and backward, the other sideways. One of the U-tubes is filled with green and the other with red colored water. The top ends of the U-tubes are connected together using clear plastic tubes (this prevents water overflow). Acceleration is demonstrated by running the car. Forward-backward acceleration is evident when the car accelerates from rest, the water level in the forward-backward U-tube moves towards the rear, opposite when the car stops. Centripetal acceleration shows up in the unequal level of water in the sideways U-tube when the car is turning. The magnitude of the accleration is proportional to the height difference of the water level in a U-tube. One can show the independence of the two components of accleration, as well as the magnitudes. Kids also have fun driving the car!