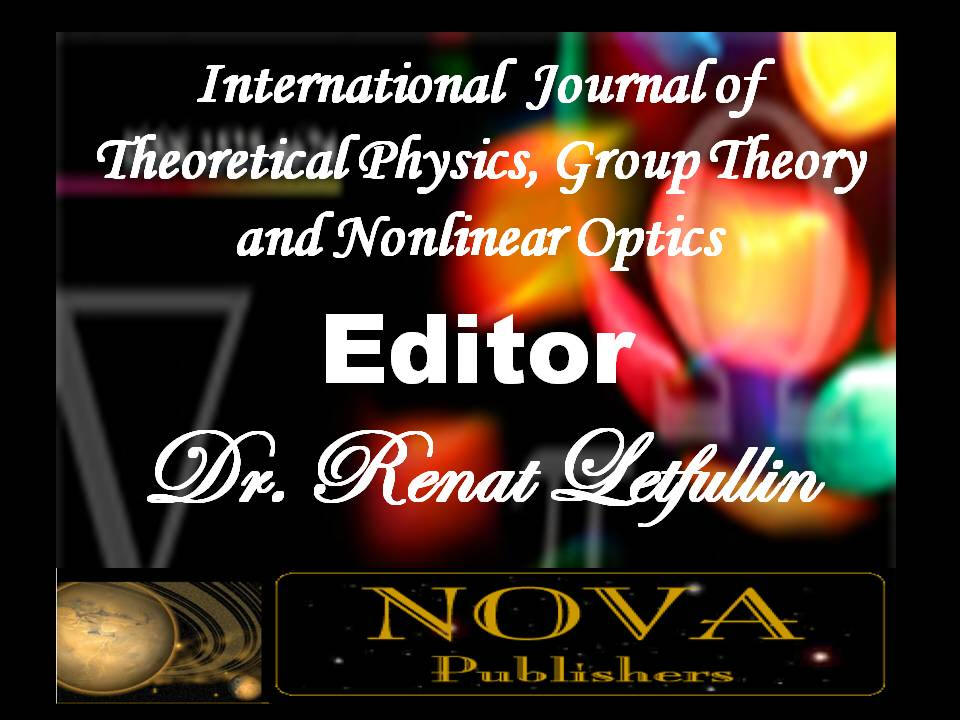 journals edited by Dr. Renat Letfullin:
Dr. Renat Letfullin is Editor for International Journal of Theoretical Physics, Group Theory and Nonlinear Optics (co-edited by G. Zhang) published by Nova Science Group.
Books edited by Dr. Renat Letfullin:
1. Perspectives in Theoretical Physics (ISBN: 9781611229608) 2012
George, Thomas F.; Letfullin, Renat R.; Zhang, Guoping
ISBN 10: 161122960X ISBN 13: 9781611229608
Price: US$ 146.52
Book Description: Nova Science Publishers Inc. Hardback. Book Condition: new. BRAND NEW, Perspectives in Theoretical Physics, Thomas F. George, Renat R. Letfullin, Guoping Zhang, Theoretical physics employs mathematical models and abstractions of physics in an attempt to explain natural phenomena. This book presents and discusses current research in the study of theoretical physics, including interfaces in nanometric dielectrics; thermodynamics of liquid metals; fractional oscillators; superconducting state parameters of Be-Zr glassy alloys and 3d-transition metal binary alloys.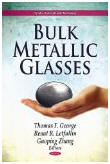 2. Bulk Metallic Glasses (ISBN: 9781611229387) 2012

George, Thomas F.; Letfullin, Renat R.; Zhan, Guoping
ISBN 10: 1611229383 ISBN 13: 9781611229387
Price: US$ 106.82
An amorphous metal is a metallic material with a disordered atomic-scale structure. In contrast to most metals, which are crystalline and therefore have a highly ordered arrangement of atoms, amorphous alloys are non-crystalline. This new book presents and reviews research in the study of bulk metallic glasses.Preface; Superconducting State Parameters of Bulk Metallic Glasses; Study of Vibrational Dynamics of Pd77.5Si16.5Cu6 Bulk Metallic Glass; Study of Vibrational Dynamics of Binary Mg70Zn30 Metallic Glass; Study of Vibrational Dynamics of Fe80B14Si6 Bulk Metallic Glass; Study of Vibrational Dynamics of Fe80B10Si10 Bulk Metallic Glass; Computation of Phonon Dispersion Curves of Ca70Mg30 Metallic Glass; Study of Vibrational Dynamics of Fe40Ni40B20 Bulk Metallic Glass; Study of Vibrational Dynamics of Ni80B10Si20 Bulk Metallic Glass;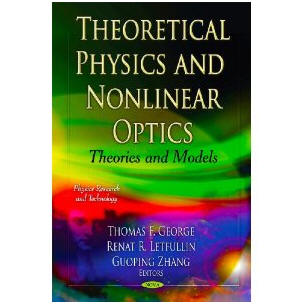 3. Theoretical Physics and Nonlinear Optics, 2012
By: George, Thomas F. (EDT)/ Letfullin, Renat R. (EDT)/ Zhang, Guoping (EDT)
Buy New: $129.00
Format: Hardcover
Publisher: Nova Science Pub Inc
http://www.amazon.com/Theoretical-Physics-Nonlinear-Optics-Theories/dp/1611229391

4. Computational Studies of New Materials II
By: George, Thomas F. (EDT)/ Jelski, Daniel (EDT)/ Letfullin, Renat R. (EDT)
Buy New: $155.00 $139.50
Format: Hardcover
Publish Date
:
1/31/2011
Publisher
:
World Scientific Pub Co Inc