High School & RHIT Students to Design Solutions Based on Reality Game
Tuesday, February 14, 2017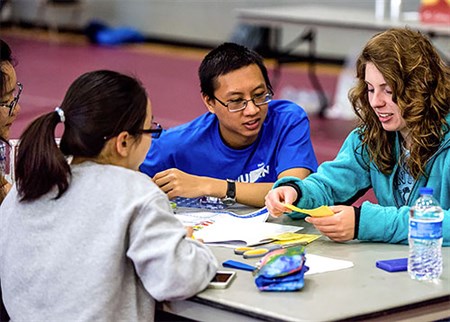 Working Together: The annual SPARK competition brings together high school and Rose-Hulman students to develop creative solutions for a design challenge.
A fun-filled design competition has been organized on campus March 18 to spark innovation and creativity among college and high school students. The free event, called SPARK (Student Projects Advocating Resourceful Knowledge), is scheduled to begin at 9 a.m. and should continue until 3 p.m. in the institute's Sports and Recreation Center.
SPARK strives to promote growth for students in innovation and creative design through the use of teamwork, networking, and mentorship in an exciting and challenging environment. Activities have been organized by Rose-Hulman's Building Undergraduate Diversity (RoseBUD) program, with support from ArcelorMittal, Ford Motor Company and Halliburton.
Four-person teams of RHIT and high school students will have the opportunity to develop creative solutions for a design challenge based on the Pokemon Go! augmented reality game. Teams will devise methods to transport, catch, store and identify PokeBalls.
"The goal is to get 100 students excited about engineering, design and team work," says RoseBud mentor Carlotta Berry, associate professor of electrical and computer engineering.
Besides the design competition, there will be an introduction on creative design practices and discussions about careers in science, engineering, and mathematics. Breakfast, lunch and snacks will be served to all participants.
Teams with the best technical and creative designs, as determined by guest judges, will win prizes provided by the corporate sponsors and the RoseBUD program.
There is no charge for the program, but students wishing to participate must register in advance.
The RoseBUD program hopes to encourage more students towards careers in science, technology, engineering and mathematics. There is special emphasis at Rose-Hulman toward broadening diversity among students enrolled in engineering, science and mathematics.