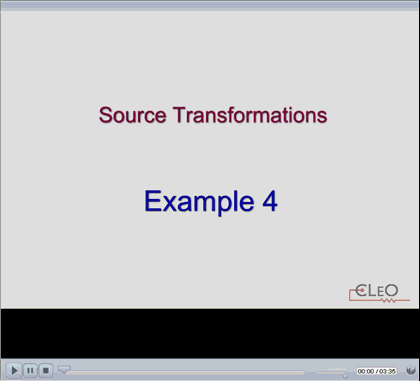 Welcome to Project CLEO
On our site you will find over 250 examples covering a two-semester course sequence in engineering linear circuit analysis, including AC and DC circuits, phasors, op amps, transients, power, and Laplace-based analysis.
The examples are designed by electrical engineering professors who collectively have 15 years experience teaching circuit analysis. You can browse and search for examples that are similar to your own homework problems, giving you the practice and instruction you're looking for. Once you work an example as a practice problem, you can check your answer to get quick feedback about how well you can apply what you have learned in class.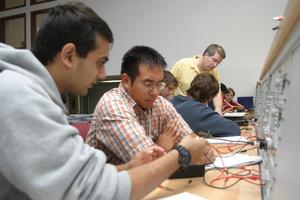 When you need help working the example, watch a short video in which the professor works the example in detail and explains each step along the way. If you have speakers or headphones, be sure they are turned on so you can follow the professor's audio explanation, or you can watch the captioned version. We encourage you to work the examples yourself first and then consult our solutions as a way to check your answers. Click here for a sample video.
Spend some time looking through our site and see what we have to offer. If you need more help, please feel free to contact us.
---
Acknowledgements

This material is based upon work supported by the National Science Foundation under Grant No. 0536155. Any opinions, findings, and conclusions or recommendations expressed in this material are those of the author(s) and do not necessarily reflect the views of the National Science Foundation.
Equipment provided by the Rose-Hulman Department of Electrical and Computer Engineering.
Screen capture and video production software technology provided by TechSmith Corporation.